Meet Tasha Eleby: A Fearless Philanthropist and Widow on a Mission to End Violence With Unity
HSM:Tell us about your organization and your movement to provide unity in the community
TE: As an entrepreneur's effort to give back to the community in ways to make a direct impact, Billionaire Demeanor Clothing the brand was developed to create a funding source so that we can continue to bring awareness on issues of violence and provoke change in underserved communities by collectively coming together as change agents. It's a brand that's about a mindset beyond money, it's about Character, Integrity, Drive, and Class which is what empowers each customer. Our message is simply the power of unity and how our little company can make a major difference in our communities. A portion of our proceeds go right back into my community project EAT | PRAY | LOVE where we feed 300 homeless in the city of Houston each month. Customers are elated to see their names on our volunteer shirts as they realize that their contribution is making a direct impact in our local communities.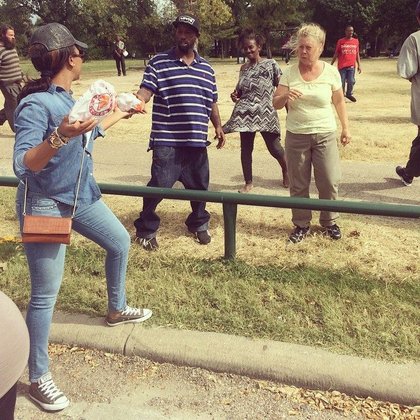 HSM: Why are you so passionate, where does your drive come from?
TE: My drive comes from the determination to be a change agent in my community. I want to stop the endless cycle of violence that continuously plague our communities. It breaks my heart to see that we have an opportunity to make our future generation's lives better, but we won't. When you genuinely love people, you want people to be safe, you want to protect them and provide a better life which is my passion. As a young woman, I have endured the unfortunate loss of my husband at 24 years old, due to a senseless act of violence. Those are feelings I wouldn't want to put on anyone to ever experience. I know that from these experiences all I can do is be a voice, an example and seek to be a solution that many inner city communities face on a daily basis.

HSM:WIth the wave of violence in the world, you are on a mission to promote unity and love?
TE: Why - Love and unity is the solution. I believe in getting to the root of the issue. In order to effectively create change, and end senseless acts of violence in our communities and the world, we must promote more love and unity. Love is a universal language that heals not hurts. Love forgives and unity creates power needed in order to evoke change. When we start uniting in love for the greater mankind, then we will start seeing that hate and acts of senseless violence will decrease.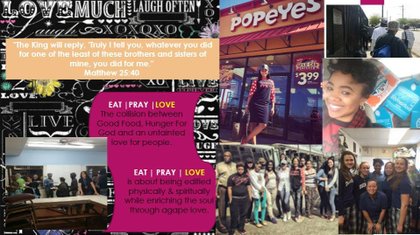 HSM: Tell us about your upcoming events.
TE: Sat, Aug 13 - Sun, Aug 14 is a preview of the platform we've created to giving opportunities to connect hidden talent and business gems in our communities to the public. The weekend is a mix of fashion, art, music and community as Saturday, Aug 13th we bring you The Experience: All White Rooftop Fashion|Music|Art Mixer. Guests will enjoy shopping at Roof Top Pop Up Shop, music and art along with the opportunity to preview fashions and products from a variety of local vendors. Sunday, Aug 14 is the highly anticipated community family event of the summer, United We Stand: commUNITY Basketball Game at NSOL Center from 3-5pm where we are bringing the local community and law enforcement together to play basketball for peace and unity.
HSM:Why is it important to bridge the gap between the inner city and law enforcement?
TE: This is a lose/lose battle for everyone if we don't ! Our communities and our families are suffering the most, and we won't have a strong community or people with this type of division.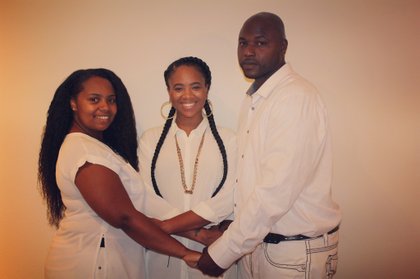 HSM: Entrepreneur, philanthopist, and all time fearless woman what's next?
TE: What's next is to get up everyday and repeat. The more I grow as an entrepreneur the more I will be allowed to grow as a philanthropist because there will be more good I can do, the more people I can help and the greater platforms of opportunity I can create. There's no limit to what's next but the mission will always be the same and that's Love and Unity.

Social Media Instagram: @lreleby3