The Simone Touch: Houstonians Take Olympic Gold With Historic Wins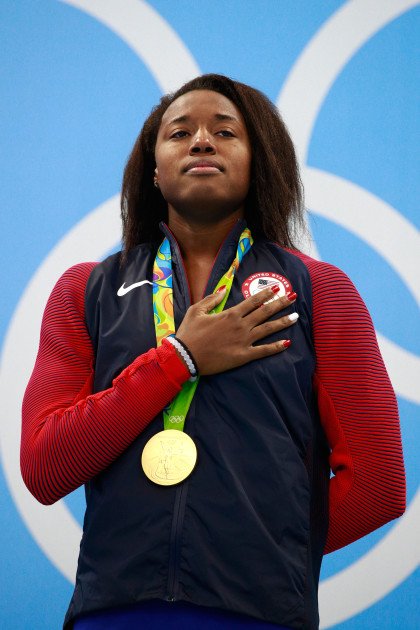 It seems that if your name is Simone and you are from Houston that you will win gold. Houstonians were on fire at the Olympics last night.
Nineteen-year-old Simone Biles lived up to all the hype that surrounded her and took home her second gold medal of the 2016 Olympics Games in the U.S. Women's Gymnastics All Around. Biles' win follows that of Gabby Douglas, who won the gold for the All Around at the 2012 Olympic Games. That is back-to-back U.S. wins by African American women. Black girl magic on fire.
"Everything was going through my head but mainly it was like I had finally done it and when that hits you, you can't really stop the emotions." Biles added, "To me, I'm just the same Simone. I just have two Olympic gold medals now. I feel like I did my job tonight."
Following that big win, another Simone, Simone Manual, tied for gold in the women's 100-meter freestyle. She became the first African American woman to win gold in an individual swimming event for the United States, set an Olympic record, and gave Team USA its first gold in that competition in decades. And she is only 20-years-old.
"It means a lot [to be the first black woman to earn gold in the pool]," Manuel said after the race. "This medal is not just for me. It's for a whole bunch of people that came before me and have been an inspiration to me. And it's for all the people after me, who believe they can't do it."