Correa Named American League Player of the Week
Shortstop wins his second weekly award this season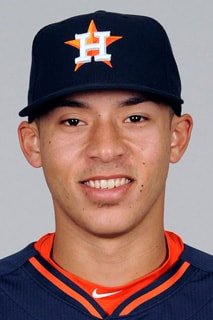 HOUSTON, TX - Major League Baseball announced this morning that Houston Astros shortstop Carlos Correa has been named the American League Player of the Week for the week of August 8-14. This marks Correa's second Player of the Week Award this season, also for the week of June 20-26, and the fifth earned by an Astros player in 2016.
During the week, Correa hit safely in all seven of his games, hitting .429 (12x28) with six runs scored, three doubles, three home runs, 12 RBI and a 1.324 OPS (.467 OBP/.857 SLG). His 12 RBI led the AL during the week, while he ranked tied for second in home runs and tied for third in hits. Correa currently has a 10-game hitting streak and leads all Major League shortstops in RBI with 82 (ranks seventh in the AL overall).
The highlight of his week came on Aug. 11 at MIN, a doubleheader sweep of the Twins, in which Correa combined to go 4x8 with a walk, four runs scored, a double, two home runs and four RBI. He homered in both games of the doubleheader, becoming the first Astro to do so since Luis Gonzalez on Aug. 10, 1993 at CHC, and the youngest Astro to do so since Rusty Staub on Sept. 19, 1965 at CIN.
Including Correa's two awards, Astros players have now won five AL Player of the Week awards this season, as Tyler White, Jose Altuve and Colby Rasmus won the first three awards of the 2016 season. The Astros five Player of the Week award winners are the most in the AL this season.
This also marks just the second time in franchise history that the Astros have had five players win a Player of the Week award in the same season, also in 2008 when Lance Berkman (two times), Carlos Lee, Ty Wigginton and Roy Oswalt each earned NL Player of the Week honors.
In recognition of his American League Player of the Week award, Correa will be awarded a watch courtesy of Game Time, the leader in licensed sports watches, available at MLB.com.