Louisiana FLooding: 'Cajun Navy' Answers Call for Volunteers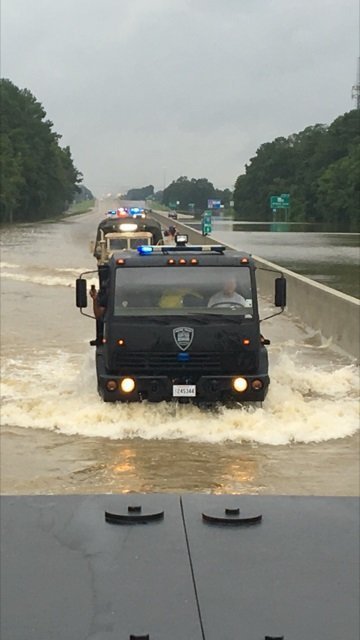 By Steve Visser, Amanda Jackson, Holly Yan and Rosa Flores
CNN
BATON ROUGE, Louisiana (CNN) -- They're out in force, patrolling in jon boats, motorboats and even canoes through south Louisiana's new, flood-made waterways, saving cats, dogs and people.
They're known as the "Cajun Navy," and in recent days they've become possibly the nation's most important neighborhood watch.
Troy Green, from Ascension Parish just south of Baton Rouge, loaded up his boat after hearing the Cajun Navy needed a few good sailors.
He drove to East Baton Rouge Parish where the National Guard had a staging area.
"I am here to help," he said. "Where do you need me?"
They paired him with a local man and the two spent a full day pulling people -- at least two of them in wheelchairs -- out of flooded houses.
At one point Green recalled having nine people, a cat and two dogs aboard. He had to return the next day to get a lady's pet bird.
"People were brokenhearted. You could see it," he told CNN. "You couldn't put a smile on their face."
The devastation, he said, was overwhelming.
'Trying to wake people up'
Steve Spell set out to do what he could in his village of Springfield, in Livingston Parish, one of the hardest-hit areas.
His Warsaw Marina neighborhood was cut off from the outside world, and his neighbors had formed an emergency camp on a remaining section of dry ground.
Spell made a series of trips to check on neighbors and found one elderly woman wading through her kitchen, where she had several dogs in portable pet cages.
"I've been coming back and forth to check on animals and deliver food and water," he said. "It's not the safest area to be in at all."
Terry Felder said he barely made it out of his neighborhood in Denham Springs, east of Baton Rouge. He awoke the morning of the flood and stepped outside to see water rising, quickly. The road outside his house was rapidly becoming a river.
He didn't return to shut the front door of his home. He just made for his vehicle.
"I immediately jumped in and took off, and started blowing the horn right there; and I just leaned on the horn all the way," he told CNN. "Stopped in front of all the houses, blowing the horn, trying to wake people up.
"It woke people up, but it was too late for them. Most of these people were in their beds sleeping."
An 'unprecedented' deluge
Tens of thousands were forced to abandon their homes and virtually all their belongings.
Some didn't escape in time. At least 11 have died in the flooding, Gov. John Bel Edwards said Tuesday.
Officials from various parishes had put the death toll Monday night at nine, including some swept away in cars on flooded streets. The reason for the conflicting death tolls was not immediately clear.
Because this flooding was not spawned by a named storm or hurricane, Edwards called the deluge "historic" and "unprecedented."