Wait No More! The Houston Black Heritage 2nd Annual Music and Arts Festival is Here!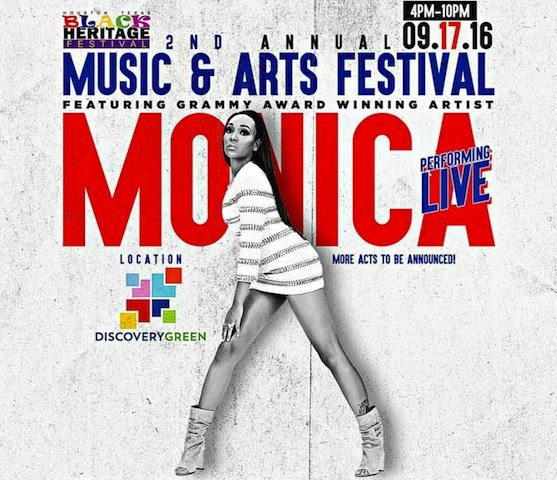 August 17, 2016 -Houston, TX-The Houston Black Heritage Music and Arts Festival is back for its 2nd year. The highly anticipated festival will be held on September 17, 2016 at Discover Green from 4pm-10pm.
The 2nd Annual Black Heritage Festival is a one day cultural event produced by the nonprofit 501c3 tax exempt organization, "The Foundation for Black Heritage and Culture". The festival features speakers, exhibits, musicians, artists, poets and craftspeople locally and nationally. The festival promotes diversity and cultural solidarity. This one-day experience also offers both children and adults with an opportunity to increase their awareness of African and African-American culture and history. This event is ideal for all ages!
This year the honoring continues as we celebrate 10 influencers that have made a tremendous difference in the Houston community. This year's musical headliner consists of Grammy award winning singer, Monica. She has big shoes to fill considering how Mint Condition brought down the house at last year's festival. The reviews from their performance were remarkable. Last year's attendees praised the Founder of The Black Heritage Festival with the following commentary, "Richard Andrews has come a long way on this event. He's knocking on the door of success. Mint Condition= power." Mr. Andrews has had the vision of The Black Heritage Festival for quite some time, and he is elated to have so many supporters in the city of Houston. . I can recall many places, events, and festivities in the past that enchanted our citizens with cultures from all around the world. While it was exciting, it also inspired me to embark upon this journey to share our culture in an unprecedented manner, to highlight, commend, and extol the contributions of Black Americans to the international fabric of our city as well.
Also, performing on the main stage will be Blushhh Music of Mathew Knowles Music World Entertainment, Brian Jack, H.I.S.D., De'dre, Endurance, Pastor Terrance Johnson of Higher Dimensions Church, and Jazz Anderson, daughter to Basketball Wives star, Tami Roman. In the midst of those performances you can expect to be blown away by a miniature step show of some of Houston's finest step teams.
This festival has gained some incredible partners to assist in bringing togetherness within our community. Our partners consist of McDonald's, Radio one, Style Magazine, The Principal Partnering Group LLC, Rodney Jones Law firm, The Musicians' Wives, B&B Entertainment, News With Attitude, Houston TV, KTSU, The Forward Times and the Buffalo Soldiers National Museum, to name a few. With the assistance of these amazing partners, the Festival will continue to impact families.
About Houston Black Heritage Music and Arts Festival:
The existence of the festival supports cultural enrichment and diversity within the Houston Community by ensuring all events are inclusive of all ethnicities. The goal of the festival is to foster awareness and to promote the basic premise that people can change communities through love, unity, and work.