2 US Swimmers Pulled Off Plane in Rio Over Questions in Robbery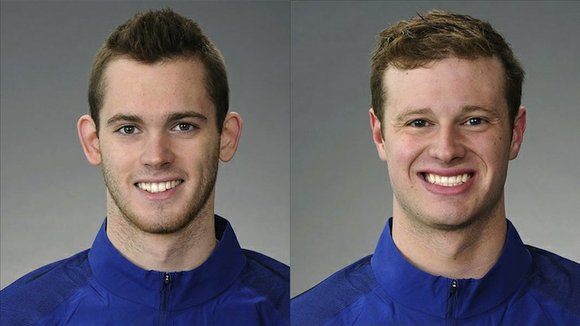 By Marilia Brocchetto, Joshua Berlinger and Angela Dewan
CNN
RIO DE JANEIRO (CNN) -- American Olympic swimmers Jack Conger and Gunnar Bentz were pulled off their flight from Rio de Janeiro to the United States overnight and had their passports seized as muddled accounts of a reported robbery involving the athletes spiral into a diplomatic matter.
The two men and fellow US swimmers Ryan Lochte and James Feigen reported being robbed at gunpoint early Sunday in a taxi bound for the Olympic Village by individuals posing as armed police officers, the US Olympic Committee said.
But a series of conflicting accounts by the athletes and authorities since then has caused confusion and turned the event into a diplomatic issue involving consular officials, lawyers, judicial orders to confiscate passports and the removal of athletes from a flight.
The twists and turns in the case also threaten to overshadow the Olympic Games as they draw to a close.
The US committee told CNN that Brazilian authorities had removed the swimmers from the plane Wednesday night for questioning about the robbery. It said they had been released, with the understanding they would discuss the incident Thursday.
Brazilian authorities said they have questions about what happened that night and have concerns over inconsistencies in the accounts of the events.
A Brazilian police source close to members of the investigation say that police in Rio believe there was no robbery.
An attorney for Lochte, Jeff Ostrow, brushed off suggestions of conflicting stories, saying the four swimmers' accounts "are 95 percent consistent."
Conflicting accounts?
The US Olympic Committee said the robbery occurred after the athletes left a party at the French hospitality house.
On Sunday, Lochte gave a chilling account to NBC, which is broadcasting the Olympics in the United States, saying the swimmers' taxi was pulled over and men flashed a police badge at the Americans before forcing them to the ground. After Lochte refused to get down, he said a man cocked a gun and pressed it against his head.
But he changed his account slightly Wednesday, NBC reported, saying the men were robbed after using a toilet at a gas station. Lochte said two men tried to force them to the ground, one pointing a gun inches from him when he refused.
Ostrow said the gun was pointed near his client's head, not against it, adding the difference was just "a matter of inches."
Public speculation about the incident was fueled by the release of a video obtained by the Daily Mail, which it said was filmed shortly after the reported robbery.
The video appears to show the four swimmers returning to the Olympic Village, and in possession of high-value items that might be expected to have been taken in an armed robbery.
CNN is unable to authenticate the video.
Brazilian Judge Keyla Blanc De Cnop said the athletes' jocular behavior upon arrival at the Olympic Village -- combined with inconsistencies in their statements -- led police to question the veracity of their claim.