Houston Texans vs New Orleans Saints in the Preseaon State of Football Game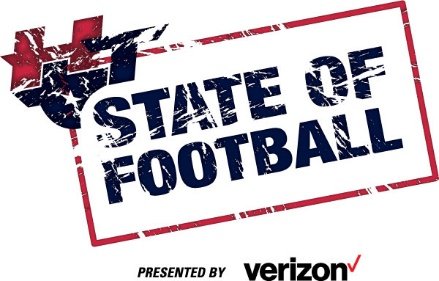 The Houston Texans will play the New Orleans Saints this Saturday, Aug. 20 in the State of Football Game presented by Verizon. Kickoff is set for 7 p.m. CT at NRG Stadium.
The State of Football Game celebrates and promotes football at all levels in the state of Texas and supports player safety initiatives. The halftime matchup will include the Youth Football Classic presented by Nike featuring the Fort Bend Youth Football League Roughnecks vs. Steers, from the Houston Texans Showcase League presented by Fuddruckers.
Both teams visited training camp and got the chance to meet with Executive Vice President of Football Operations and General Manager Rick Smith. During their visit, Smith congratulated them on being selected to play at halftime and addressed the importance of Heads Up Football.
The Houston Texans and the NFL are dedicated to supporting youth football and promoting safety initiatives. Through the generous support of the NFL Foundation, USA Football will distribute $2 million in equipment and uniform grants this year. Because of the support of the Houston Texans and USA Football, more than 25 schools in the Houston area will receive grants that support safe and fun football for the youth of our city.
Below are more details on in-game entertainment and what to look out for at this weekend's matchup against the New Orleans Saints in Houston:
State of Football features:
· Quad Sports Flag Football Teams will participate as the Texas Flag Holders.
· The Willowridge High School Marching Band will play the national anthem.
· Magnolia High School Navy JROTC will serve as the Color Guard.
· Jon Kay, Gary Joseph and Ricky Tullos, the head football coaches for High School State Champion winners North Shore, Katy and George Ranch, respectively, will serve as Homefield Advantage Team Captains. Each school will also have (2) team captains joining them.
· The Woodlands College Park High School Coach Richard Carson, Dickinson High School Coach John Snelson and _1MP9919Jersey Village High School Coach David Snokhous, this year's Greater Houston Football Coaches Association Hall of Honor Inductees, will serve as Coin Toss Captains.
· Highlighting the pregame events will include a special performance by the 2016 Jr. Cheerleaders presented by Texas Children's Hospital and the Houston Texans Cheerleaders.
· Special presentations at the State of Football ceremonies will include the GE and Methodist Most Valuable Moms Kickoff Celebration and Coach of the Year Recognition with 2016 Coach of the Week Kickoff presented by Houston Methodist.