Celebrity Siblings Meagan Good & La'Myia Good Link Philanthropy & Fashion W/High End Brand Defend Paris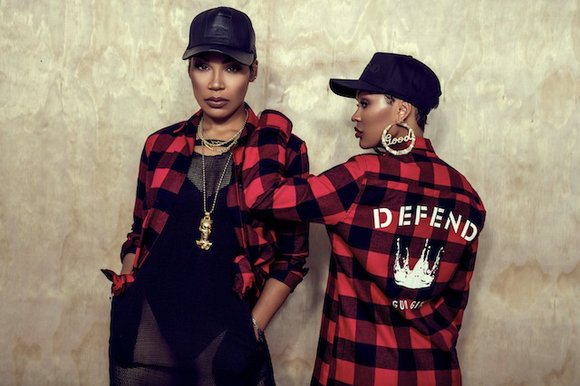 HSM: Meagan and La'Myia tell Houston Style Magazine about this Defend Paris collaboration
MLG: My sister and I felt it was super important to collaborate with a line that respected us as influencers, highly regarded in pop-culture and the narrative that ensues. We believe we all have a responsibility. We have a heart for young women ..and wanted to do something that could help be the catalyst for a movement of self-love, respect, worth and the awareness that we have the ability to do anything we set our hearts to.
HSM: This flannel will directly impact The Greater Good Foundation, what are some of your current initiatives?
MLG: The Greater Good Foundation not only identifies with pushing forward the agenda of the Good Girl Movement but has partnered with an initiative in the Compton Unified School district called Musication. Collectively Musication and The Greater Good Foundation implement a curriculum that is aligned with common core standards (meaning you can actually use these courses to graduate) that allows at risk youth to learn math, science and other subjects via the arts and through mentoring.
HSM:How did you two get to collaborate with such an iconic brand Defend Paris?
MLG:Our good Friend and business partner Renisha Spann who specializes in marketing and branding connected us because she knew we had like-minded efforts in terms of what we want to put into the world and what we stand for unapologetically

HSM:The Good Girl Foundation mission is to empower young women from underserved communities, how important is the 2016 election?
MLG: It's incredibly important. Who we choose as our next president will absolutely alter our quality of life for good or bad to some degree. As well as who we vote for overall outside of a president will affect the laws that are being passed that how they affect us and how our youth sees each other. HSM: Do you think the world is ready for the first female president of the United States?
MLG: We do believe the world is ready. It would be dishonest for me to say, but we're excited about either candidate, but we do feel very passionately that Ms. Clinton will be the better choice for America than Trump.

HSM: Actress, singer, activist, author, wife, and philanthropist what's next for the celebrity siblings Meagan and La'Myia Good? MLG: For us, all of the things that God has allowed us to accomplish in our lifetime thus far are truly a blessing.. grace and purpose.. but what matters most to us what we put into the world and how we affect the things that God has so passionately impressed upon us. We've got movies that were working on and producing, music to support the movement, a full collection coming partnered with Defend and maybe even another book in the works.. but the thing that is and will always the most important to us is the work that we do with our foundation .. To hold ourselves accountable to whatever leadership God has entrusted us with & making sure that we do the best that we can to be lights, encourage positivity, love and change.