HoustonISD's New Superintendent's Lofty List of Expectation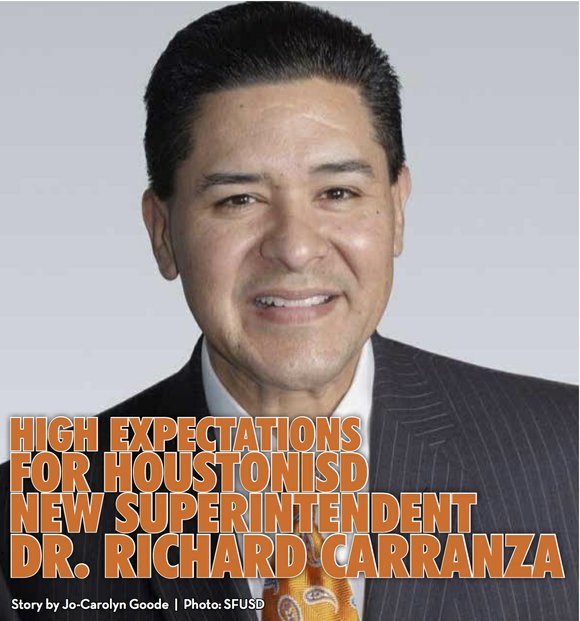 When the school bells ring for Houston ISD on August 22nd there will be a new chief at the helm. This school year will be an exciting one full of transition and change as Dr. Richard Carranza steps in the role of superintendent of the seventh largest school district in the country.
Dr. Carranza beat put 34 other finalists who made the cut after a nationwide search to fulfill the spot left vacant by Dr. Terry Grier in February 2016. Many expectations lie on the shoulders of Carranza as so much is expected of him from the school board, students, faculty, parents and the community.
Board President Manuel Rodriguez Jr. said in an interview that the next HISD superintendent needed to be one who could communicate with different populations, as the district is highly diverse. But also the superintendent needed to be able to work within the various political branches in Houston and with community and business partners. "We need a person that can lead all these different factions to come together to understand that what we want to do is educate all the children of HISD so they can be college ready, workforce ready and ready to go into a global economy," Rodriguez.
Echoing some of those same desires were parents and those in the community. Numerous community meetings were held to gain insight from the public on what characteristics they thought the next superintendent should. Rodriguez said they heard over 3,000 requests of what the superintendent should look like. Some of them include a person who was a good communicator, be bilingual, understood centralize and decentralized budgeting, and understand Houston, Texas laws, and students' needs. A lofty list but one that Dr. Caranza thinks he can handle.
Caranza comes to HoustonISD from California where he was the superintendent of 53,000 students in the San Francisco Unified School District. As the new HISD superintendent he more than triple the amount that will under his watchful eye as HISD has in over 200,000 students. In California, Carranza was able to have successes that board members are looking for in Houston. Under his leadership, students were globally ready upon graduation as 850 of the 3,400 graduates in 2015 earned a seal of billiteracy, meaning they mastered two languages upon graduation. Other success included an increase in district funds of 30 million in private donations and new contract agreements for teachers yielding them to receive a 12 percent pay raise.
His ability to diversify is what stood out the most with the board, especially since the district has a large Hispanic population. Carranza is fluent in both English and Spanish and has a long history of working with diverse populations successfully. He will be able to relate to many of the students in HISD with language barrier since he did not learn English until he was in elementary school.
Carranza has said in previous interviews that his plans for Houston won't be cookie cutter. Based on his work in California, it assumed that he is more about working with all parties involved in situations to solve problems. In San Francisco when schools were struggling, Carranza put more money into the schools to address their needs. Teachers over students with low test scores weren't fire because Carranza doesn't just look at test data but other variables to make decisions on what to do next.
In a recent interview with Houston Public Media, Carranza said one of his first issues of concerns that he wants to tackle is the recapture payment. HISD is facing a budget shortfall of more than one million. By law under the Texas Education Code, HISD is required to make a recapture payment of $162 million. HISD only has $55 million. Carranza wants legislatures to understand how this negativity impacts districts like HISD that has a huge student population of economically disadvantaged students.
Carranza officially became HoustonISD new superintendent on Thursday, August 18, 2016. On his to-do list improving the 40 schools deemed low performing schools and maneuvering HISD's budget woes.
Learn more about Dr. Carranza at houstonisd.org