Calling Local Student Dancers to Audition on Sunday, September 11 to Perform in Moscow Ballet's Great Russian Nutcracker in Houston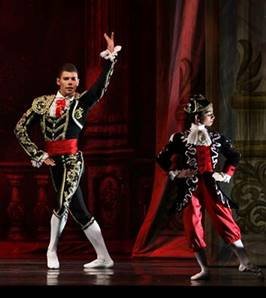 "In addition to featuring local youth dancers as [small] mice and snowflakes...this acclaimed version of the perennial ballet from Russia includes special touches." Chicago Tribune
(Berkshires, MA) Aug 17, 2016 – Calling local student dancers to audition to perform side-by-side with the professional company in Moscow Ballet's Great Russian Nutcracker and is the second annual fund-raising performance in Houston for local human rights organization Free the Captives. The selected children will perform in the Great Russian Nutcracker Thursday, November 17 at Houston Baptist University's Durham Theatre. Moscow Ballet Soloist and Audition Director Mariia Skoruk will conduct auditions Sun, Sept 11 12:00pm at Moscow Ballet's local Host Dance Studio Houston Metropolitan Dance Center, 2808 Caroline (at Dennis) Houston, TX, 77004 to audition dance students from the area. Student dancers, boys and girls, ages 7 to 17 years, and who have at least one year of ballet training, may audition for ancillary roles such as Party Children, Mice, Snowflakes, Angels and more. The auditions are free, there may be a casting fee. Moscow Ballet's "Dance with Us" program has brought thousands of student dancers on stage to perform in a professional environment annually for 24 years – a once in a lifetime experience for many children! "It really brought the idea home that the Great Russian Nutcracker is a wonderful chance for children to be in a full-length production and experience first-hand an authentic classical ballet from this uniquely Russian company of remarkable performers." Calgary Herald.Sign up to audition today at www.nutcracker.com/youth-auditions . Performance tickets are at www.nutcracker.com.
Mariia Skoruk was awarded "Honorable Mention" at the Fifth Serge Lifar International Ballet Competition in Kiev.She graduated with a Choreographic Teaching Degree from the National Dragomanova Pedagogical University and 2016 is Mariia's fourth year as Moscow Ballet Audition Director. At just ten years old she was invited to attend the famous ballet school of the Kiev State Opera and Ballet Theater from which she graduated with a "Diploma of Distinction." Click for more
Houston Metropolitan Dance Center (METdance) is a 501(c) non-profit organization whose mission is to enhance the quality of life for individuals and society through the instruction and the performance of dance in Houston. Founded in 1995, Houston Metropolitan Dance Center Inc. strives to educate and revitalize a passion for dance through the finest instruction and performance. With professional and youth dance companies, as well as a strong community outreach program, METdance continues to be a leader in the vitality and diversity of Houston's dance community. METdance Company has performed throughout the United States in dozen's of theaters receiving high acclaim, performing works by some of the most influential and talented choreographers of our time. Headed up by founder and Executive Director Michelle Smith and Artistic Director Marlana Doyle, the company is the sister organization to the METdance Center, which opened a newly renovated facility in May 2013 in Houston's midtown.
Dance with Us brings a professional, live ballet performance experience to over 5,000 student dancers in the US and Canada each year since 1994. Local student dancers ages 7 to 17 audition and rehearse with Moscow Ballet Audition directors who travel to each town eight weeks before the performance. The auditions are open to student dancers from all studios and they are free. (There is a casting fee for participation). Julia Zhmutski of Julia's Dance Academy in Oklahoma City said, "It was such an amazing opportunity for our young dancers to learn and grow and see how a professional company works. We loved the fact that the original Nutcracker was used and the costumes were breathtaking." Dance with Us Audition Directors travel to 100+ North American cities in September and October auditioning and rehearsing local. Dance with Usis underwritten by Moscow Ballet. Partnerships with local dance studios in performance cities are developed by co-producer Mary Gianonne Talmi who also developed "Dance with Us" program. Click for more.
Moscow Ballet – 2016 is the company's 24th consecutive year touring North America. In addition to the popular Great Russian Nutcracker, company repertory includes classic ballets Swan Lake, Sleeping Beauty, Romeo and Juliet, Cinderella and more. The company features award-winning and rising star dancers, from Lilia Sabitova in 1994 to Alisa Voronova in 2014. The company performs 100+ engagements annually across Canada and in most of the United States' largest cities consistently receiving critical acclaim. In addition to public performances, Moscow Ballet dedicates resources to community engagement programs. The 23 year Dance with Us program shares the Russian Vaganova ballet training with over 5000 American dance students annually bringing them on stage in ancillary roles to perform side-by-side with the professionals. Underwritten by Moscow Ballet, the program was developed by choreographer and co-producer Mary Gianonne Talmi. The intensive cultural immersion project "New Horizons – A Children's Program for Life" benefits thousands of school children in tour cities and programs Musical Wunderkind and Summer Intensives also touch the lives of many children and young adults. Moscow Ballet's partnerships with corporations and not-for-profit organizations such as the President's Challenge Program and Children's Hospitals, has raised significant revenue. www.moscowballet.com.