Sonja B. Norwood launches The Bizness Management Matters Workshop with Casting Director Leah Daniels (EMPIRE), BRANDY, Ray-J and More
A Can't Miss Empowerment Bizness Workshop Experience!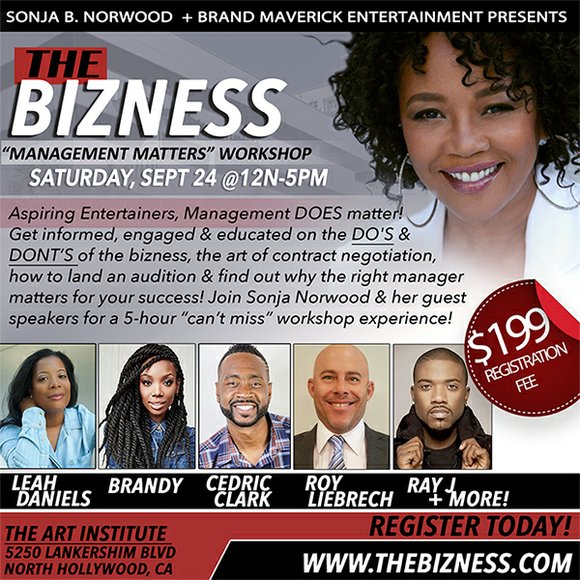 Hollywood, CA (August 19, 2016) –– Legendary artist manager Sonja B. Norwood has launched her Management Matters Workshop under the umbrella of her company, The Bizness. One of the industries most respected power players, Sonja is known for building a multi-million dollar enterprise from the ground up, rising to prominence by managing the careers of multi-platinum selling GRAMMY Award winning artist/actress BRANDY, Platinum artist and TV personality Ray J, and a host of other successful entertainers.
The Management Matters workshop is designed to reach aspiring entertainers of all kinds including singers, actors, artists, mangers and more. Attendees will be informed, engaged & educated on the DO'S & DONT'S of The Bizness, the art of contract negotiation, and also learn how to land an audition, all connected to understanding why the right manager matters for their success!
In addition to one-on-one interactive empowerment sessions with Sonja, confirmed guest panelists include Casting Director Leah Daniels of the #1 hit show Empire, Entertainment Lawyer Roy Liebrech, Artist Manager Cedric Clark, Singers BRANDY, Ray J and more. This workshop is a can't miss opportunity, that will help give you the tools needed to take control of your career. "I'm excited to help aspiring entertainers become successful in The Bizness!" said Sonja Norwood, founder of The Bizness Management Matters series. "I can't wait to show you how to get over on the industry, before the industry gets over on YOU!"
The event, being held in North Holllywood at the The Arts Institute, begins at 12n to 5pm. Those interested in registering can do so at www.TheBizness.com!