Investigators Want Houston Dentist to Lose Her License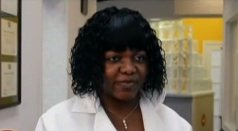 New documents from the Texas Board of Dental Examiners paint a horrible portrait of what happened to 4-year old Neveah Hall, the little girl left brain damaged by Houston dentist Dr. Bethaniel Jefferson.
Investigators say Dr. Jefferson failed to check Neveah's oxygen levels for two hours during sedation in her office. Oxygen levels shouldn't drop below 90. At one point Neveah's dropped to 49. The dentist used the wrong drug to stop the little girl's seizures, then waited hours to call for emergency help. Testimony shows Dr. Jefferson called her pastor several times, but didn't call 911 until it was too late.
"Every parent in America must take this as a wake-up call," says Houston lawyer Jim Moriarty. "Every day bad dentists are hurting our children, from improper sedation to overtreatment to Medicaid fraud. Neveah has suffered horrible brain damage. Other children are now dead."
Neveah's story has been viewed by hundreds of thousands of parents on social media. Final action is still pending by the Texas Board of Dental Examiners. For more information, visit www.moriarty.com.