AboutThatCar.com - 2017 Chrysler Pacifica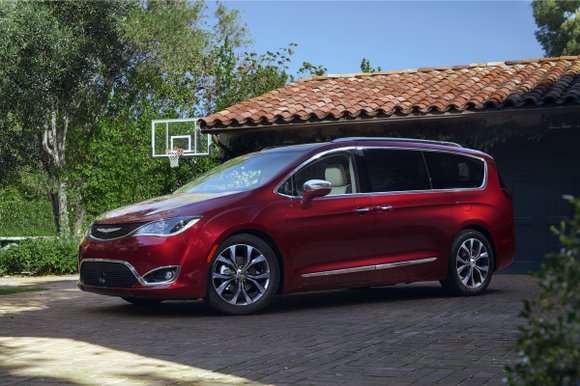 AUBURN HILLS, MI – We were so impressed with the spin that we took more or less around the block in the 2017 Chrysler Pacifica that we asked for a longer test drive. We got our first up close look at the Pacifica during a brief show and tell here at Fiat Chrysler Automobiles' headquarters.
Never mind the hype about Chrysler newest minivan and there was plenty of it. Three things grabbed our attention. The spaciousness of the Pacifica was eye-catching. There was tall glass all round that from the inside simulated a continuous picture window. And there was a tree panel panoramic roof. In other words, all three rows of seats had a clear view of the sky.
The next thing that grabbed us was the power. On a really long entrance ramp onto I-75 North, we pushed the pedal almost to the metal and the Pacifica reached 75 mph before we got on the interstate. The Pacifica had a 3.6 liter V6 that made 287 horsepower and 262 pound-feet of torque. The engine was mated to a nine-speed automatic transmission. It had an EPA rating of 18 mpg in the city, 28 mpg on the highway and 22 mpg combined.
Last was when we got in the Pacifica for our short test drive, we thought it was the most comfortable minivan we'd ever been in to date. It had a horizontal dash layout that was clean and fresh. The materials were top notch. It was ergonomically friendly, easy to drive and quiet.
It was 250 lbs. lighter than the model it replaced, the Town & Country, and that showed in the way it handled. We need to get the 2017 Chrysler Pacifica to take a longer look. Prices start at $28,595.
Frank S. Washington is editor of AboutThatCar.com.