When Leaving a Legacy Outside of the Ring is Your Greatest TKO
"Meet Darwin Price: Undefeated Super Lightweight"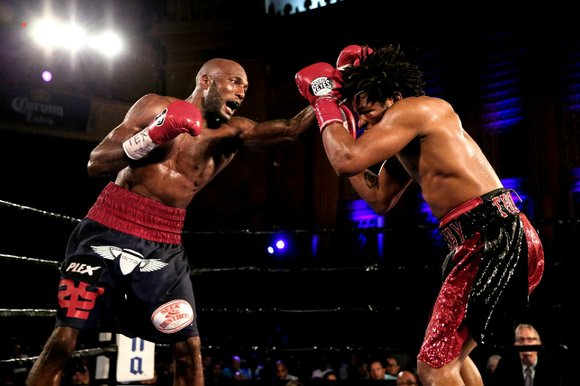 RB: Darwin tell Houston Style Magazine about yourself.
DP: I was born and raised in St. Louis, MO. I graduated from Normandy High School and attended Grambling State University on a full athletic scholarship in track & field.

I started running track and boxing at fifteen years old. While attending high school, I became the first African American in the state of Missouri to win: the 1mile, 2 mile and 800m at their state meet in 2012. During my college years, I was awarded SWAC Track & Field MVP seven times, won the Texas Relays in the 1500m race in 2010, and became a 4x regional qualifier for track & field that same year.

I enjoyed my experience at Grambling where I graduated with a BS in Sports Management and became a member of Alpha Phi Alpha Fraternity, Inc. As an amateur boxer, I amassed nearly 120 bouts and was ranked number six in the country after qualifying for the Golden Glove Nationals. In August 2014, I became a professional boxer and signed with Al Haymon, who is one of the best boxing managers in the business (and also manages Floyd Mayweather). Currently, I hold an undefeated record of (10-0) as a super lightweight, and can't wait to make it 11-0 against Javontae Starks this weekend.
Since becoming pro, I have made Houston my permanent residence so that I could provide a better life for my family and train with Boxing Hall of Famer (2003) Ronnie Shields. Ronnie Shields is one of the most respected trainers in the business and has solidified a powerful resume with boxing legends such as Mike Tyson, Evander Holyfield, and Vernon Forrest.
RB: You could have qualified for the 2012 Olympics for distance running, what compelled you to become a professional boxer?
DP: Yes I could have worked towards competing in the 2012 Olympics for track, but I saw better opportunities with my boxing career. I had the same love for both sports, but a decision had to be made. Also, I figured boxing could put me in a more stable financial situation for the long term.

RB: You have been preparing for your upcoming bout against Javontae Starks (13-1) this Saturday in San Antonio, what does training camp consist of?
DP: Training camp consists of a lot of different things. Staying focused and ready are the biggest. A lot of things outside of the ring (in your personal life) could take a toll on you, so it's important to remain focused throughout camp and all the way to "fight night". A lot of working out is involved; so getting the proper rest is a major factor. In order to maintain strength and endurance, I have to monitor my eating habits and weight daily. Camp can get tough, but it's up to your team to make sure you have everything you need. I am very thankful for my coach, my team, and my "Pay the Price" supporters.
RB: Ali and Mayweather have been known to be serious "trash talkers" who pack a powerful punch what do you bring to the boxing ring ?