6 Cold Weather Beauty Tips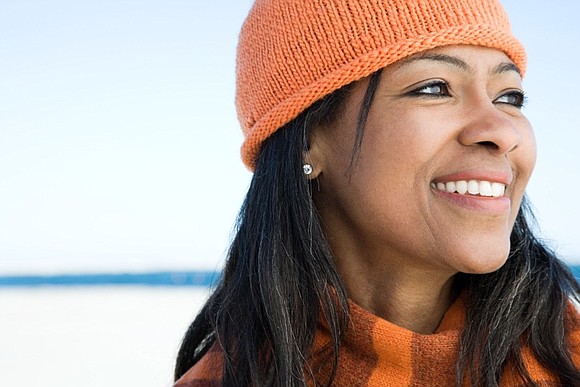 Winter should come with another weather advisory—rough beauty conditions ahead. The main culprits are cold air, which holds less moisture than warm air, and low humidity and central heating, which make already dry hair and skin even drier. The result: Your skin becomes rough and flaky while your hair feels dry and loses its shine. Even worse, cold weather hits harder as you get older, when the skin's production of natural moisturizers starts to dip.
What should you do (aside from locking yourself indoors until spring)?
These simple cold weather beauty tricks will help your skin smooth, your hair shiny, and your makeup looking fresh well past the groundhog's springtime start date:
1. Invest in a humidifier.
If your heating system doesn't have a built-in humidifier, place a portable unit in your bedroom to add extra moisture into the air and prevent dry skin and eyes in the winter. Set the unit for 30 to 50% humidity during the winter months, advises the Consumer Product Safety Commission. (Humidity levels above 60% may allow moisture to build up and condense on surfaces where bacteria can settle and flourish.) Change water in your humidifier daily and clean out the unit every week to destroy bacteria that can grow in stagnant water. Breathing in dirty mist can cause respiratory problems that are especially dangerous to allergy or asthma sufferers.
2. Take special care in the shower.
Cold weather strips the skin of moisture and it causes people to seek increasing amounts of warmth. Instead of heating up your shower, heat up your bathroom. Hot water promotes dryness so try to keep the water temperature lukewarm to warm and avoid making a habit of long showers and baths.
3. Moisturize, moisturize, moisturize.
You will need to take extra measures to replenish moisture. To do so, you should switch to a heavy body moisturizer if you aren't currently using one. You also want to make sure that it has a humectant, which is an ingredient that attracts moisture. Examples include urea, hyaluronic acid and glycerol.
4. Drink more water.
When the temperatures drop, how and what people drink often changes. Water consumption tends to plummet, which is a critical mistake because hydration is connected to moisture, and moisture is essential during the colder months. People also tend to drink more hot beverages, a habit that is believed to increase dryness of the lips.
5. Pay attention to what's on your plate.
It may seem that your appearance somehow takes a dive in the winter. You may not have thought about it, but people often eat differently once the chill moves in. Salads, cooked veggies and fruits may make fewer and fewer appearances on the grocery shopping list. Be aware of this tendency and avoid it. Your diet is your primary source of nutrients, which supplies the building blocks for healthy hair, skin and nails and the tools to repair and combat damage.
6. Protect yourself from the sun.
Another habit that largely changes for the worse is the application of sunscreen. Though it may not be as bright outside, UV rays are still present and can still do the same amount of damage. This is especially true when it snows because the rays tend to reflect off the surface. To avoid cold weather sun damage, loyal to your sun protection products.