Houston Welcomes First Latino Police Chief, Art Acevedo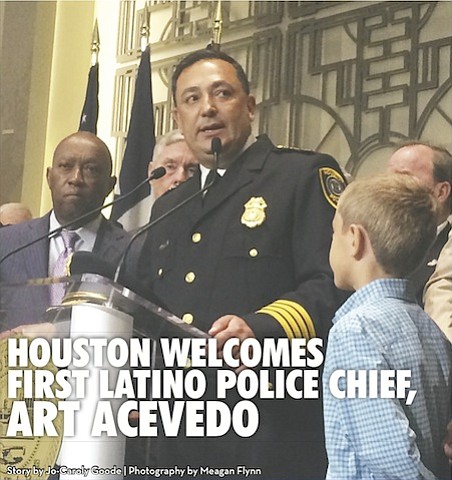 Artists are generally two things, patient and always crafting to make a beautiful picture. Houston's new police chief is an artist in more than just his name, Art Acevedo. He has the patience to work with Houston's officers coupled with the community to produce great results to make a beautiful picture. He says that together he and the police force will be a group of "fine artist tweaking" to make Houston the best it can be.
And many will be looking to see the type of job he will do. Chief Acevedo was sworn in this past Wednesday as Houston's first Latino police chief. Surrounded by his family, Chief Acevedo took the oath of the office from good friend Judge Cliff Brown and pledged to serve and protect all Houstonians. Mayor Sylvester Turner proudly introduced the new chief to the city with a charge to all that in order for Houston to be the safest it can be it will take more than just Chief Acevedo to do the job but everyone, a message that Chief Acevedo believes in as well.
As the Chief of Police of Austin, Chief Acevedo ran an operation that was based on something he called "relational policing" in which he took every opportunity to build a relationship with the person. It was the formation of successful relationships with officers, the community and everyone he came across that made the city great and safe. Chief Acevedo is excited to bring this concept to Houston. It is his belief that is how you build trust within a community, something that is so vital for citizens and officers with these heighten racial times in which we live.
Chief Acevedo knows only friends and no strangers. He is a people's person. Priding himself on knowing the more than 2500 officers that made up the Austin Police force, he will get to know Houston officers in the same matter. First with surveys to better know officers opinions and thoughts. When they become united, they then can take on the community to begin the process of winning the hearts and minds of the people they serve, which is what Chief Acevedo thinks is the biggest thing the city needs to do to be safe.
Chief Acevedo's top goals are simple. He wants to not have any officer seriously injured or killed, not violate any one's Constitutional rights or break any laws, and lastly, in any given 24-hour period he wants his officers, as well as himself, to be able to the face the people they serve and honestly be able to say that they have done their very best that day to serve and protect.
Not one to sit behind a desk, Chief Acevedo plans to be a highly visible chief known for more than just policing the community but giving back too. It was the need to give back and the call to patriotism that lead him to be an officer. In Austin, he was involved in the Boy Scouts. He was a mentor. He got down in the trenches with officers to work the streets himself. His ear is always up on what's happening in the city since he is heavily involved on social media.
Chief Acevedo says don't call him a cop who is a community leader but call him a community leader who happens to be a cop. Being the head of fourth largest city's police department is not a one person job. It takes all citizens coming together with a common purpose and common agenda to achieve success.
Houston, in the words of our new chief, "sit back, relax, buckle up and enjoy the ride" because it is going to be fun.
Welcome to Houston and Congratulations Chief Art Acevedo.