Kiki Shepard: Bringing the End of Sickle Cell to the Spotlight
12/6/2016, 4:09 p.m.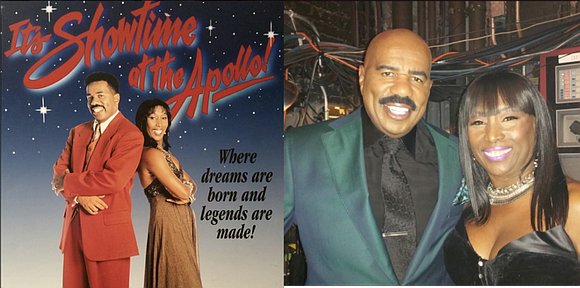 Showtime at the Apollo was known for many things: putting the spotlight on today's famous acts first, shutting down acts that had little or no talent with the Sand Man and of course it's co-host, the beautiful Kiki Shepard. Many famous R&B, soul, and hip hop performers have appeared on the show and has had a number of hosts, including Whoopi Goldberg, Martin Lawrence, Sinbad, Steve Harvey, Mo'Nique and others, but Kiki Shepard has always served as co-host from 1987 until 2002.
Since her departure from the show, Kiki has been busy with acting and appearances, but her true passion is putting an end to the disease, sickle cell. KiKi Shepard founded her K.I.S Foundation in 2007 at the urging of many friends and sickle cell disease advocates. She has been raising awareness of sickle cell disease for over 20 years now and actually has the sickle cell trait herself. The K.I.S Foundation prides itself in being committed to improving the health and quality of life for all people living with sickle cell disease because this "sickness has no boundaries and compassion has no limits."
Sickle-cell disease is a group of blood disorders typically inherited from a person's parents. The most common type is known as sickle-cell anaemia. It results in an abnormality in the oxygen-carrying protein hemoglobin found in red blood cells. This leads to a rigid, sickle-like shape under certain circumstances. A number of health problems may develop, such as attacks of pain ("sickle-cell crisis"), anemia, bacterial infections, and stroke.
According to her website, the journey to end sickle cell began when she saw the effect of the disease on the family of a personal friend whose brother suffered and died as a result of it.
"The strong desire to combat my shared grief and sense of helplessness led me to offer my services to the Sickle Cell Disease Association of America, Inc. Through this national organization, I was introduced to SCD families across America, and was able to interact with many patients whose bodies and minds are ravaged by this disease."
Lugo on showtime at the Apollo w/ Sinbad and Kiki Shepard from Lugo on Vimeo.
"On one occasion while visiting Childrens Hospital L.A., one of the gallant doctors there shared with me the story of how he had administered "enough morphine to kill an adult" to a child having a SCD crisis, and it didn't even make a dent in the pain this child was experiencing. Hearing these life stories of SCD patients fueled my desire to help even more. My commitment continues."
Although there is a procedure that eliminates/cures this disease – the bone marrow transplant – the procedure is out of financial reach for many families and is not always successful. Awareness and education are paramount.
This year the K.I.S. Foundation, Inc., is focusing on young adults in transition from pediatric care to adult care. Young adult SCD patients are often denied medical care in emergency rooms due to a lack of knowledge of SCD symptoms and appropriate procedures.
The K.I.S. Foundation has many programs and events to get involved. For more information on the foundation and what Kiki Shepard is doing, click here.