Olympic Medalist Al Lawrence Inducted into Houston Marathon Hall of Fame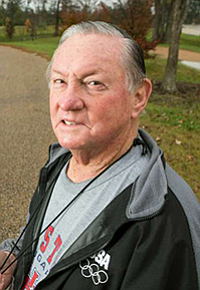 HOUSTON (December 6, 2016) - The Houston Marathon Committee (HMC) announced today the election of 1956 Olympic 10,000m bronze medalist Al Lawrence into the Houston Marathon Hall of Fame. Lawrence will be honored by the Houston Marathon Committee on December 7, 2016 at the 2017 Hall of Fame Reception.
In the early 1970s, Lawrence began coaching local elite and novice runners. Hundreds of Lawrence's runners have finished the Houston Marathon since its inception in 1972, including the inaugural champion, Danny Green. After years on the sidelines as a coach, Lawrence decided to launch a competitive comeback and entered the Houston Marathon for the first time in 1978. He finished the race in 2:45:32. He went on to run the race six more times and in 1981 he won the U.S. Athletics Congress' "Outstanding Athlete Award" for his 50-59 age group and was capable of posting a sub-2:40 time.
"It's no exaggeration to say that Al Lawrence's contributions to the Houston running scene are nonpareil," said Chevron Houston Marathon Race Director and Board President Brant Kotch. "Al's experience in the running world is deep and varied: he's been an Olympic medalist, a superb collegiate and post-collegiate runner, a coach of many hundreds of Houston Marathon finishers including three open winners, and an author of three books on running and racing as well as an autobiographical fourth book. Al's induction to our Hall of Fame represents a new category of contributors to our race - running coaches, those who advise, mentor and train our runners. Given the number of runners he's coached and their far greater number of total finishes, no coach has contributed more to the Chevron Houston Marathon."
Lawrence arrived in Houston in 1958. A 1956 Olympic bronze medalist in the 10,000m, he joined the University of Houston's track team and earned degrees in 1963 and 1967. A resident of Houston for over forty years, Lawrence competed for Australia in the 1956 and 1960 Olympics in the 5,000m, 10,000m and marathon, winning a bronze medal in the 10,000m in 1956.
"The Houston Marathon has made a remarkable and indelible contribution to the city of Houston since its inaugural race in 1972, including raising the standard of American distance running, improving the fitness level and general health of its thousands of participants, raising money for multiple charities and bringing Houston into the spotlight for international marathons," said Hall of Fame inductee Al Lawrence. "I am proud to be recognized as a participant in Houston's amazing marathon journey and feel honored to be inducted into its Hall of Fame."

After becoming an American citizen in the early 1980s, the Al Lawrence Running Club, USA (ALRC) was established in 1987 by a group of runners who were being coached by Lawrence. Their purpose is to foster competitive and recreational running among the club members and within the local Houston community. His knowledge and passion for the sport have kept him active in the running community and, even at 86 years old, he can still be found at Memorial Park on Mondays and Wednesdays.
About the Houston Marathon Hall of Fame
Over the past 44 years, countless people have contributed to the success and growth of the Houston Marathon, from industry and community leaders to humanitarians, athletes and volunteers. To recognize these individuals for their dedication and service to this great event and the sport of running, the Houston Marathon Committee established the Houston Marathon Hall of Fame in 2007.
For more information about the Houston Marathon Hall of Fame and a list of members, visit http://www.chevronhoustonmarathon.com/about-hmc/hall-of-fame/.
About the Houston Marathon Committee, Inc.

Established in 1972, the Houston Marathon Committee, Inc. (HMC) annually organizes the nation's premier winter marathon, half-marathon, and 5K. Over 250,000 participants, volunteers and spectators make Chevron Houston Marathon Race Day the largest single-day sporting event in Houston. A founding member of Running USA, the HMC is an IAAF bronze level event that retained Gold Certification from the Council of Responsible Sport and was awarded the AIMS Green Award for industry-leading sustainability initiatives. Race Weekend generates over $50 million in economic impact for the region annually. In 2016, the Run for a Reason Charity Program raised $2.3 million, while the Houston Marathon Foundation supported youth and community running initiatives. Televised annually by broadcast partner ABC13, 2016 was the first time that the event was syndicated live nationally and internationally on ESPN3 and the Longhorn Network. Host to 16 U.S. Half Marathon Championships since 2005 and the 1992 women's Olympic Trials Marathon, the HMC also conducted the 2012 men's and women's U.S. Olympic Trials Marathon.
For more information, visit www.chevronhoustonmarathon.com or call 713.957.3453.