Texas' Carter to Join Trump DOJ Transition
Burt Levine | 12/9/2016, 9:55 a.m.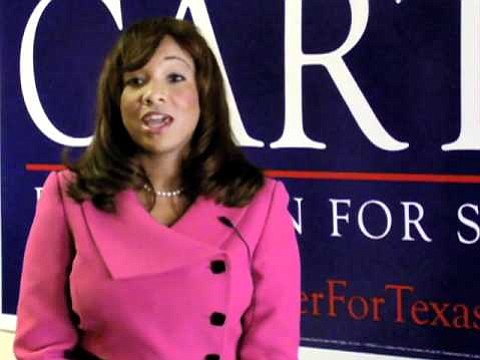 Former Texas State Rep. Stefani Carter has accepted a position with President-Elect Donald Trump's Transition Team at the US Department of Justice. The Texas native, University of Texas, and Harvard Law School graduate is a former Dallas County Assistant District Attorney that is Texas' first and only African American woman Republican elected to the Texas House.
"My mother was an elementary school teacher that taught me the value of earning a prized higher education. My father is an engineer turned entrepreneur, the owner of a small lawn-care company, that taught me the incredible importance of applauding business building to the past, present and future of Texas and America," said Carter, 38, who said by phone Tuesday her agreement with the Trump Transition team prevents her from communicating to the media directly but the Trump Transition team did credit her for volunteering for Trump in Texas.
"I worked hard at Plano East Senior High School knowing my parents told me I'd have to work my way through college. I earned a full scholarship to UT Austin where I graduated with highest honors with a Government BA and Journalism BS," said the builder and owner of Stefani Carter & Associates, LLC in prior talks. During Carter's undergraduate years at UT she interned at the White House during the Clinton administration.
After UT, Carter graduated from Harvard Law School where she earned a master's in Public Policy from Harvard's John F. Kennedy School of Government. She became active in the Republican Party serving as a contributing writer to USA Today. She later ran for public office and won her seat in the Texas Legislature arguing the incumbent Democrat was not "sufficiently conservative" for the district. She served on the powerful Appropriations Committee. In recent years, she has taken the stage as well for teaming in efforts with Sen. Ted Cruz and Gov. Greg Abbott.
As a Texas Lawmaker and National Rifle Association member, she applauded pro-gun rights. She told the Republican National Convention, "The fastest-growing demographic group in my state seeking concealed handgun licenses is black women. As a former prosecutor, I understand why they choose to arm themselves." During her last House session, she co-authored a measure allowing citizens to store concealed handguns in their vehicles while at work, which became law. She supports states having passed "stand your ground" laws allowing people to protect themselves on their own property.
"According to Bureau of Justice Statistics, 93% of the more than 8,000 black homicide victims in 2005 were murdered by someone of their own race. Of those 8,000 victims, 15% were women. Blacks account for only 13.1% of the U.S. population but are nearly half the homicide victims in this country. With numbers like these, it's imperative we learn as a people and as a country what to do to address these issues at justice," said Carter then who was named one of Texas' most conservative lawmakers but on public education issues was known for working with the widest possible audience to achieve the most for as many Texans as possible.
Further expressing her commitment for fairness for all, Carter stated, "Our Second Amendment right is an important freedom that extends for all Americans — not just male but also female; not just white but also black, including and especially African-American women."
Besides advocating for gun rights, Carter also speaks her mind on the topic of energy regulation. She served on the Energy Resources Committee and was named "Taxpayer's Champion." She also has served as Vice-Chair of the Texas House Energy Caucus. In 2013, she began a run for the energy regulating Texas Rail Road Commission and at the country's capitol will keep in mind as she did in the state capitol the importance of energy to Texas and America's future.

Keep in the know on Texas politics and Texas election issues with Burt Levine. Share this story online at www.stylemagazine.com.