Wine and Music, The Perfect pairing
Interscope Records Festival wine "Electric Sky" set to make its Houston debut at "Day For Night Festival"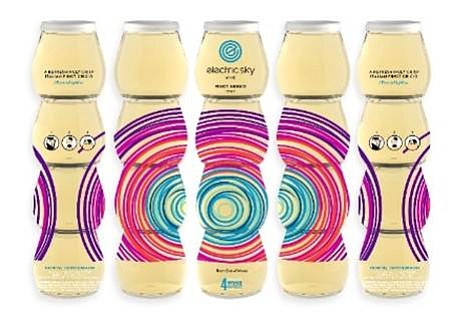 Interscope Records, home to such diverse artists as Lady Gaga, OneRepublic, and Rae Sremmurd, is diversifying yet again. This time, however, it's not with a new artist. Instead, it is diversifying into wine. Interscope is shaking things up with its newest addition to the family "Electric Sky."
Interscope continues to put itself at the forefront of cultural trends with its distinctive style and taste, by reinventing the wheel of wine consumption. No need to worry about wine openers, corkscrews, and breakable glass, Electric Sky's creatively packaged bottles comes in four convenient 187 ml single-serve portions, which snap together to form a 750-ml bottle.
Each bottle is individually sealed and delivered in shatter-proof, recyclable plastic. Making it perfect for sharing with friends while outdoors or at home when you simply want one glass of wine at a time. The four 187 ml single serves are designed to snap together vertically to form the equivalent of a 750-ml bottle.
Electric Sky has proven to be an amazing hit at festivals around the country over the past 6 months. What better way to celebrate the hippest wine on the block than at one of the most coveted music festivals in Houston! Interscope will be debuting the brands wine offerings for the first time ever at a Texas Festival - Day for Night in Houston - on December 16 and 17.
"At the festivals, we see fans engaging with wine like never before," said Daniel Sena, Head of Strategic Marketing at Interscope Records. "They collect the empty glasses and stack them 6 and 8 feet tall, carrying them around like towers. We're excited to bring this experience to Texas for the first time."
Electric Sky wine has made quite a splash on the social scene, at the New York's Governors Ball in June, Electric Sky sold over 50,000 glasses of wine in just two days. Compare that to previous years when the festival would sell about 1,000 glasses of wine when it was poured out of traditional 750 mil glass bottles. Electric Sky was also featured at Bonnaroo, Afro Punk, North Coast, and Meadows this year - selling out at about half of the festivals.
In recent weeks the wine has been generating tremendous celebrity buzz, having been designated a as a hot new brand in US Weekly, Refinery 29, and Huffington Post and featured at the parties of Christina Milian, Audrina Patridge, and Mandy Moore.
Electric Sky is coveted by music Artists and has quickly become a favorite among Celebrities, Socialites, Trend Setters, and Taste makers making it the drink of choice for the music and social scene. Electric Sky Wine and Day for Night Music festival make the perfect pairing for a cross-sensory experience unifying the senses through taste, feel and sound.
While Interscope plans to launch Electric Sky nationally in 2017, for now it is available in all H-E-B stores throughout Texas. For more information, visit Electric Sky at www.electricskywine.com.
Wine Varieties:
· Pinot Grigio: A crisp and fresh wine with lemon and peach aromas and a clean citrusy finish from the famed Saove growing region in the eastern part of Verona, Italy.
· Rose: Sourced from a vineyard located in the Languedoc Roussillon region in the south of France, next to Provence.
· California Red Blend: A juicy and smooth blend of Syrah, Merlot and Zinfandel with deep, rich red berry flavors and a soft, silky finish from Sonoma, California.