'Living Bombshell': World's Heaviest Woman Flies to India to Fight for Her Life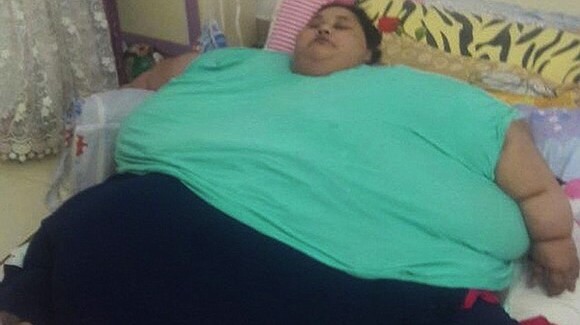 They used hand gestures when they couldn't understand each other and her body started retaining water; her weight bloated to more than 1,000 pounds.
The doctors the family consulted seemed unable to get to the root of the problem.
Shaimaa says Eman's positivity and cheerfulness fell away.
Obstacles
The opportunity for Eman to be operated on in India is a ray of hope in an otherwise bleak scenario for the 36-year-old and her family.
They were met with roadblocks almost immediately. Eman's visa application was initially denied because she was unable to go to the Indian embassy in person.
Dr. Lakdawala wrote a letter explaining that Eman had barely left her room in decades and pleaded with them to reconsider. When he was told it was still impossible, he tweeted India's external affairs minister Sushma Swaraj. "I was left with no other option," he says.
He was pleasantly surprised by her response; within two hours she had written back agreeing to help expedite the visa on humanitarian grounds.
Organizing transport was another priority, but that presented its own complications, because access to planes is difficult for someone of Eman's size.
"Air ambulances normally have a bigger door because they allow stretchers," says Dr. Lakdawala, but as Eman doesn't fit on a normal stretcher, he's had to talk to individual airlines about their capacity to accommodate her. Additionally, Eman is unable to sit in a seat, so the team have to find a flight where she can lie horizontally.
They're also taking into account that, coming from a Muslim country, she might be uncomfortable being cared for by men, so they've put together an all-female team.
"I will be the only male when it eventually comes to operating on her," says Dr Lakdawala.
As Eman is a "high risk" patient, Dr. Lakdawala says they will be taking "all precautions." And if the operation does go ahead and is a success, Eman will have to stay in Mumbai for a number of months afterward so she can be monitored.
To get her to a stage where she can bend and weighs under 220 pounds (100kg), Dr. Lakdawala says it will take two operations and at least three and half years.
Shaimaa collected the visas Wednesday and says she's optimistic about the future.
"I know the doctor will exert his best effort."
CNN's Omar Khan contributed to this report