Stafford Senior Taten Blue to Be Honored at Houston Texans Game This Sunday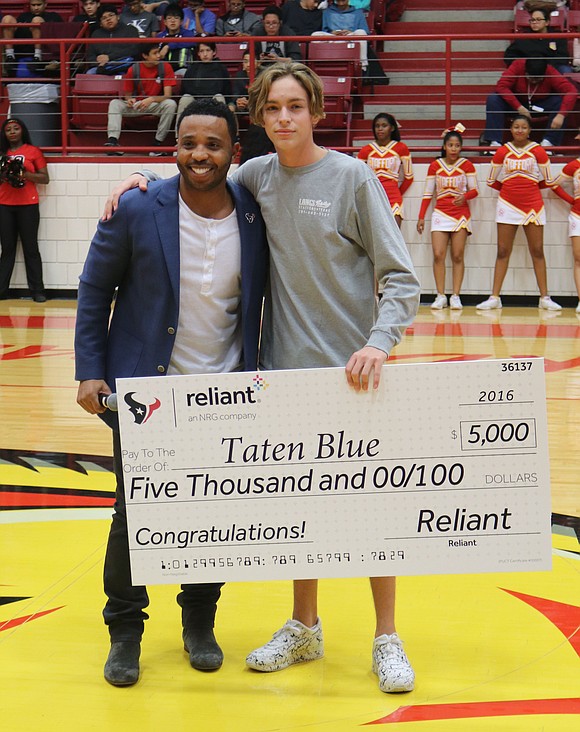 BY STAFFORD MSD COMMUNICATIONS
Stafford High senior Taten Blue has achieved a great deal in academics, athletics and community service.
Those accomplishments were recognized when he was awarded with Houston Texans/Reliant Energy Scholarship for Champions, for $5,000, last month.
"Earning this scholarship was a great honor," Blue said. "I am very honored to have received it."
Only eight of 500 applicants received this prestigious scholarship. The criteria included a nomination from a teacher or a coach, varsity athlete status, strong academics and a history of community service.
Blue, a two-time Stafford Boys Varsity Cross Country Captain who's ranked 32nd in the SHS Class of 2017, was nominated by SHS Teacher Oseas Romero, himself an SHS alum.
"We hope to have Stafford students receive this scholarship every year," Romero said.
Blue, the President of both the Superintendent's Student Advisory Council and the Senior Class President, is the second Stafford senior in as many years to win the scholarship. He has participated in numerous community service projects, including the annual Stafford City-Wide Clean-Up efforts. He is also a member of the National Honor Society.
In 2015-16, Anthony Montilva – who's now a freshman at Sam Houston State - was one of eight Greater Houston area students to win it.
Last month, Blue accepted the ceremonial $5,000 check from Houston Texans Ambassador J.J. Moses (a former Texans player) during a school-wide Pep Rally. Blue and his fellow scholarship recipients were also featured on KHOU Channel 11.
On Dec. 18, Blue and the other seven scholarship winners will be honored on the field at NRG Stadium during the Houston Texans' home game vs. the Jacksonville Jaguars.
Blue arrived at Stafford Elementary School as a fourth grader, and said the District has been very special to him.
"Stafford is a small community – being here allows you to build relationships with everyone," Blue said. "It allows you to set up your life how you want it to be."
Blue plans on attending Texas A&M University or the University of Houston, with a focus on planning for a career in the corporate world.
"I would really enjoy the challenging, fast-pace environment of the Business World," Blue said.
Blue credits the Stafford College & Career Center, a state-of-the-art Career & Technical Education program with providing him the tools to build a future career. He took several Business courses in the College & Career Center.
"The Stafford College & Career Center really allowed me to decide what I wanted to with the rest of my life," said. "I learned what you have to do to be successful in life and gained some insight into the Business World."
The College & Career Center also offers Dual Credit College courses for free, as part of a partnership with Houston Community College. Blue took some Dual Credit courses, which will help him save money on college tuition in the coming years.