Harlem Globetrotters to Retire Jersey of Houston Native and Legends Tex Harrison and Geese Ausbie
Longtime Globetrotters were part of team's rise and global popularity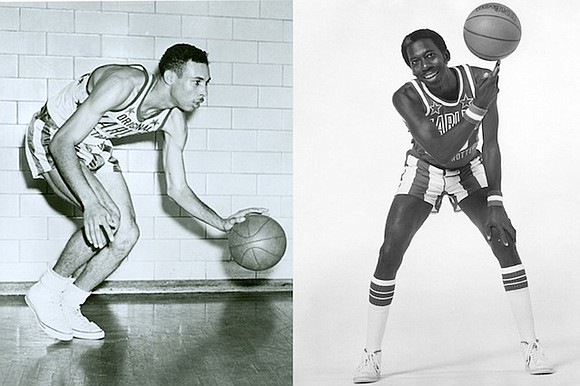 (ATLANTA, Dec. 13, 2016) ­– The Harlem Globetrotters will honor two of its most famous players during the upcoming 2017 world tour, by retiring the numbers of both Tex Harrison and Geese Ausbie. A longtime resident of Houston, Harrison's No. 34 will be retired during the Globetrotters stop in the city to tip-off the tour at the NRG Arena, on Monday, Dec. 26 (at 2 p.m. and 7 p.m.).
Harrison's No. 34 jersey and Ausbie's No. 35 jersey will both be retired in separate ceremonies in each player's hometown during the first month of the tour, the Globetrotters 91st consecutive season. They will be the sixth and seventh numbers retired by the Globetrotters in the team's history and the first since Curly Neal's No. 22 at a ceremony at Madison Square Garden in 2008.
"Tex and Geese both richly deserve this tremendous honor," said Globetrotters President Howard Smith. "There's no doubt both were an integral part of making the Globetrotters a worldwide phenomenon, bringing joy, laughter and athletic exploits to millions of fans in every corner of the world. To have these legendary players join the exclusive fraternity of numbers is a tribute to their mark on history and their dedication to the team."
Charles "Tex" Harrison, who died in 2014, was a staple for the Globetrotters for almost 20 years – from 1954 to 1972 – as a player, before becoming a coach and team advisor. Overall, he spent 60 years with the organization. Harrison once remarked that, aside from his family, the greatest highlight of his life was being a Harlem Globetrotter.
"Dad treasured being a Harlem Globetrotter. It was more than a career, it was a coveted honor with meaningful purpose," said the Harrison family. "Joining the Globetrotters in 1954, he saw and experienced the world evolve, yet nothing deterred his commitment to using his innate basketball talent and humorous personality to share joy across the world. He never failed to leave a locker room, a game, or an entire country without making a positive, lasting impact. We are honored and humbled his legacy will forever remain part of the Globetrotter family and basketball history."
Hubert "Geese" Ausbie dazzled audiences for his 24 years in a Globetrotters uniform, taking
over the "Clown Prince of Basketball" mantle bestowed upon the great Meadowlark Lemon.
In 1995, Ausbie became a coach of his beloved team, while continuing to devote his life away from the court to youth and drug-free initiatives in his home state of Arkansas. His No. 35 jersey will be retired during the 7 p.m. show at Verizon Arena in Little Rock, Ark., on Tuesday Jan. 31.
"This is truly an honor," Ausbie said. "I am a lucky man, getting to do what I loved for so many years, all over the world. Seeing the smiles and laughter from each person who came out to see us, is something that I'll never forget. To be recognized with this is a humbling gesture which leaves me speechless."