Houston Audiences Willingly Venture Into the Woods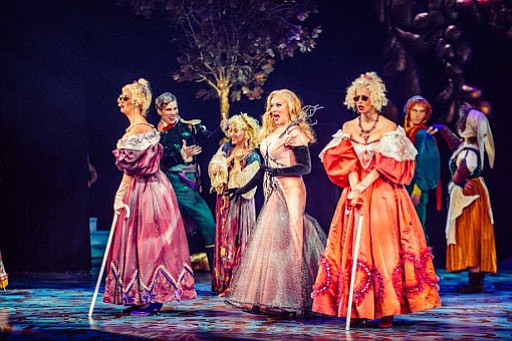 Into the Woods the fairytale filled musical enchants Houston audiences at the Hobby Center.
The fan favorite musical written by Stephen Sondheim was first made popular in 1987 and has been a huge hit with both adults and children. Adults love it due to its grown up themes and children fall in love with its familiar cast of fairy tale characters. The classic fairytale characters are all here, but Sondheim portrays them with a twist. Into the Woods features an ambivalent Cinderella, a Witch who raps, two charming Princes with a roving eye, Little Red Riding Hood not so innocent, an opportunistic Baker and his Wife. There is also Sleeping Beauty, Snow White, a Wolf, a charismatic Narrator, hilarious evil Stepsisters, Jack and his beans, a Rapunzel with issues, and more than one Giant.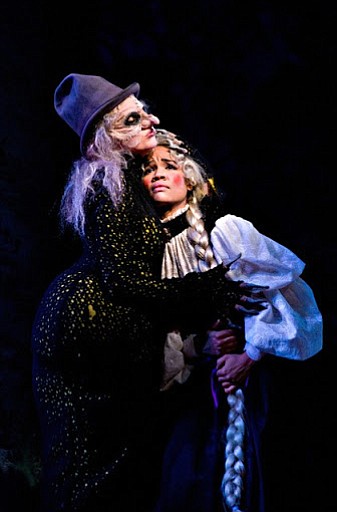 Sounds a bit interesting, right? They're all among the characters in Stephen Sondheim's beloved, fractured fairy tale.
The story begins when a Baker and his Wife learn the Witch next door has cursed them with childlessness, they journey into the woods on a quest to gather all the special objects to end the curse. Their wish is granted at the end of act one but the consequences of their actions return to haunt them later, resulting in a disastrous Giant in the land, which steps down from the sky and destroys their homes and beloved kingdom.
What then begins as lively irreverent fantasy becomes an affecting lesson about community, accountability and the stories we tell our children.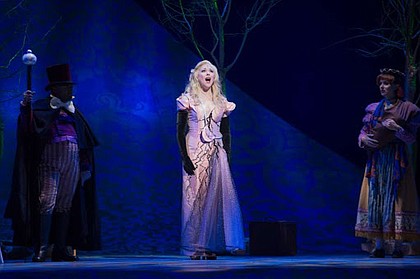 The very wood in Into the Woods symbolizes your journey in life and the decisions you make while hoping to change your life for the better.
Don't mistake this musical filled with storytelling for a children's show it's about so much more. Within the story the biggest lesson is "be Careful what you wish for" but the story also reveals lessons about growing up, parents and children, responsibility, right from wrong and consequences as all of the characters come together to help one another better their lives.
The Houston production is refreshing and filled with a talented cast that is vocally trained superstars no doubt. The acclaimed musical score to Into the Woods include notable song hits: Giants in the Sky, Stay With Me, Ever After, Your Fault, No More, Children Will Listen, all in which helped propelled the 2014 Disney film version onto Billboards top charts. In other words, this is a show with a chart topping score you won't want to miss. Stand out stars among the shows casts include Emily Skinner (Witch), who has won both a Tony and Drama League award for her performance, and Britney Coleman (Cinderella) is incredibly distinguished in her performance as Cinderella and is making her first TUTS debut.
Definitely venture to the Hobby Center to catch the outstanding performance of Into to the Woods while it's still here. Into the Woods runs now until Dec 18, 2016 at the Hobby Center. Visit www.thehobbycenter.org now to purchase your tickets for remaining dates before it's sold out!