Female Entrepreneurs Honored at the 1st Annual Black Girl Excellence Awards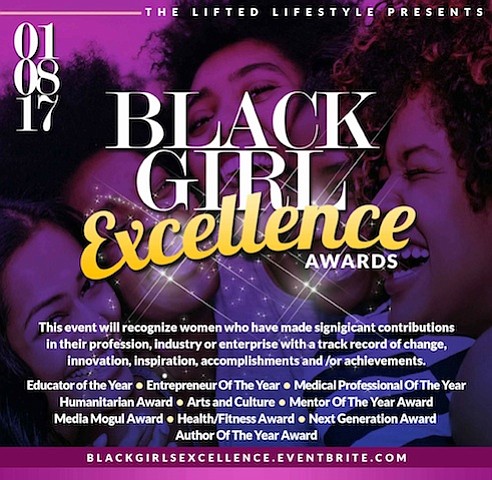 Houston, TX- The Lifted Lifestyle has announced the 1st annual BLACK GIRL EXCELLENCE AWARDS to recognize female entrepreneurs of all ages who have made significant contributions in their profession, industry or local community. The empowerment forum, brunch and awards will be held on January 08, 2017 at the Bisong Gallery.(1305 Sterrett St, Houston, TX 77002).
The Lifted Lifestyle, Founder, Latasha Weatherspoon, M.S. CCC-SLP is a Communication Consultant, Speech-Language Pathologist, Empowerment Facilitator with a special mission to empower entrepreneurs on the journey of business ownership. Ms. Weatherspoon believes in sharing. learning and teaching self-care, self-love and how to develop positive self-image for a more fulfilling life. Young Entrepreneurs (under 18 yrs old) will provide their products and services as vendors for the Black Girl Excellence Awards.
Keynote speaker for Black Girl Excellence Awards is Jenee' Pierre-Raven the owner of The Woman's Earth. The Woman's Earth is a boutique spa and wellness center offering holistic services and partnerships with women owned businesses. The Woman's Earth aims to empower women by challenging them through our values to rise above any internal road blocks that would keep them from fulfilling their purpose by encouraging the nurturing of self holistically. (mind, body and spirit)
ABOUT THE LIFTED LIFESTYLE
The Lifted Lifestyle is an empowerment company specifically designed to give you the resources, insight and support needed to grow in an environment filled with safety and respect. A joyful, loving, abundant and fulfilling life is the right of every human being. My mission is to empower people on the journey of self-discovery by providing the tools, support and the positive reinforcement needed to unearth the truest version of themselves. The lifted lifestyle is committed to helping people make room for a joy filled life that is within their right as a human being. The Black Girl Excellence Awards tickets are free for students (Grade K-12) . Adult tickets are $15.00 a can be purchased at https://blackgirlsexcellence.eventbrite.com . Proceeds will help assist with creating additional education and community programs and developing entrepreneur workshops.