Houston's Immigrant Community and Allies March to City Council
Ahead of Trump Inauguration, They Raise Their Voices for Protection of Houston's Diverse Communities, an End to 287(g) and Protection of DACA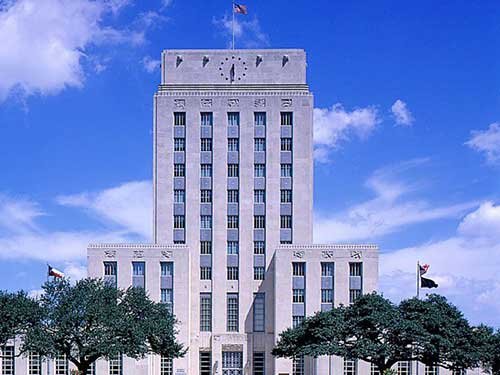 Houston, TX - On Tuesday morning, more than 50 Houstonians gathered at United We Dream Houston to take to the streets for today's Houston City Council meeting. The group included immigrant youth donning orange "Here To Stay" shirts and signs, community members of color, people with disabilities, allies from the LGTBQ community and labor advocates.
The action was led by United We Dream – Houston, SEIU Texas, MiFamiliaVota, Texas Organizing Project (TOP), Living Hope Wheelchair Association and YES Prep as a part of the nationwide community gatherings to protect immigrants & refugees.
View video testimonies here and photos of the action here, here and here. Today's testimonies follow Mayor Sylvester Turner's commitments last week to resist mass deportations, support DACA and take measures to ensure Houston is a welcoming city by creating an Office of New Americans and Welcoming Houston Task Force.
While advocates have called for protective policies to be put in place by January 14, 2017, the mayor has yet to publicly announce a timeline for action on critical policy changes, which include:
Blocking city funds and resources from assisting in the enforcement of Federal immigration law;
Prohibiting the City from dangerous profiling practices, or questioning, stopping, arresting, or detaining an individual solely on the basis of skin color, religious practices, customs, or immigration status; and
Including "immigration status" in the definition of a hate crime
Oscar Hernandez, Houston Organizer at United We Dream Houston, said:
"We are grateful for the collaborative of private and public groups that Mayor Turner has put in place to bring new resources to Houston immigrants. With a Trump presidency and new Texas legislative session on the horizon, it is now time for the city to put protective policies in place. Houston is our home and we're here to stay.

"I grew up in Houston and am one of the 60,000 young people in Houston eligible for the DACA program which has protected me from deportation and given my family mental and financial security. The threats of the incoming Trump administration — including a vow for mass deportation, an end to DACA, use of "stop and frisk" and a Muslim registry — all threaten the safety and dignity of Houstonians."
Adonias Mauricé Melara Suncín, Houston Organizer at United We Dream Houston, said:
"The Houston community came together today to prepare our defenses against Trump's deportations, criminalization and hate. We will not stop organizing to support and protect Houston's diverse communities including immigrants, refugees, Latinxs, Black folks, LGBTQ people, Muslims and people with disabilities — whether it's at the City Council, in Austin, Washington, D.C. or the streets."
"Our organizing has already made a difference with Harris County Sheriff-elect Ed Gonzalez for committing to end the dangerous 287(g) deportation program by January 1st and with Houston's Police Department and Chief Acevedo statement that that policing immigration status is not a part of his department's job of keeping Houstonians safe. The momentum to keep immigrants and refugees safe is growing and we're just getting started!" .
United We Dream is the largest immigrant youth-led organization in the nation, a powerful nonpartisan network made up of 55 affiliate organizations in 26 states. UWD organizes and advocates for the dignity and fair treatment of immigrant youth and families, regardless of immigration status. We seek to address the inequities and obstacles faced by immigrant youth and believe that by empowering immigrant youth, we can advance the cause of the entire community—justice for all immigrants.
You can find more about UWD online at www.unitedwedream.org.