The Women of Hidden Figures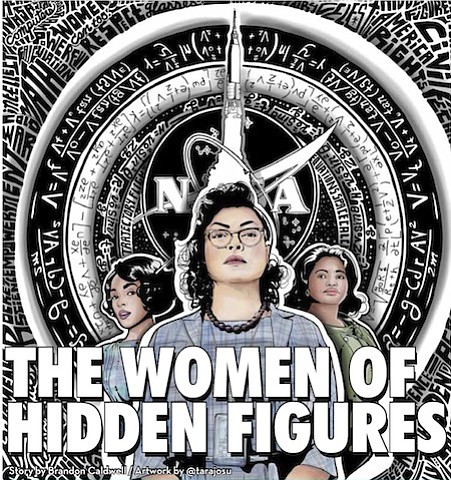 There were hurried voices pacing themselves throughout the Hilton Americas. Most fraternized with the familiar, others scurried about with the intent to feel something different.
These were the voices of women, an assortment of Black, white, Latino, Asian and more making their way through various conference rooms and chatting with coffee and bottles of water in their hand. Thousands of them. They were here to rest their feet for small moments while the 2016 Grace Hopper Conference took place all throughout the hotel, the George R. Brown Convention Center and Toyota Center. Created by the Anita Borg Institute, the mission statement reads with beaming optimism. Envisioning a future "where the people who imagine and build technology mirror the people and societies they build it for" should not be hard. Yet, it is.
Throughout the crowd of young thinkers, future engineers and leaders in various technology departments across the country, Mimi Valdés knew she stood out. She looked different. Her hair? Tinged with a grayish silver that came past her face. Her feet? Bright yellow HUMAN RACE adidas NMDs. Even if the day screamed October in Houston, she was dressed for any model shoot in her native New York. Valdés also carried the cache of something else, producer. She'd come to Houston to help promote "Hidden Figures", the untold true story of three African-American female mathematicians who played a vital role in the early days of the space program. Telling stories and being drawn to them is what Valdés does.
"I almost fainted when I first heard about the project," Valdés said of the movie. "We felt that it was such an important story."
Learning something while at the conference was a new story altogether.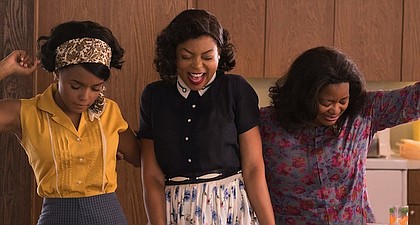 Valdés' background isn't entirely dissimilar from the background of Katherine Johnson (Taraji P. Henson), Dorothy Vaughan (Octavia Spencer) and Mary Jackson (Janelle Monáe). Much like them, she grew up a dreamer; a woman whose determination towards a particular goal only spread to larger ones down the line.
"As a storyteller, I'm always looking for new, interesting different stories that haven't been told before," Valdés said. "This was like, how did we not know about this? How did we not know these women were intricate in America winning the space race?"
The "we" Valdés refers to is I AM OTHER, the production company chaired by Pharrell Williams. Williams, one of the world's most prominent musicians and Renaissance men had been drawn to space ever since he was a child. His clothing line's logo is an astronaut. He frequently throws up the Vulcan sign of live long and prosper and at Valdés brief nudging, was eager to join the project. "Hidden Figures" marks the second major film production for Williams & Valdés who previously teamed up for the independent coming of age comedy "Dope" in 2015.
At the GHC, Valdés was an "other". A woman who cut her teeth as a writer and later a producer, she found herself surrounded by astronauts, physicists, engineers and more. One of those women, Christina Deoja, found herself on the same panel with Valdés discussing "Hidden Figures" and the role of women of color within the modern space program. "If you get one figure off, that's the end of the mission. In order for a mission to be pulled off successfully, it's really amazing. So much went into that."
Deoja, who works at National Aeronautical & Space Administration (NASA) as an electrical engineer admitted that she had no clue about the work of Johnson, Jackson & Vaughan until she saw the trailer for "Hidden Figures".
"I wanted to find out more about them," she said. "As somebody who's been an enthusiast of space since I was little, of course it's going to inspire me. It's going to reach and inspire young minority women. Just anyone! To know those challenges? They went through those and they have that legacy. Thanks to them we don't have much of a barrier in pursuing the careers that we want."
As an eleventh grader, Deoja was brought into NASA via its High School Aerospace program. The internship paid dividends as she found herself right back at Johnson Space Center after graduating from the University of Texas at Dallas. It's not a far cry from her original ambitions as a child. In the fifth grade, she told her parents her dreams of being an astronaut. When she was younger, Deoja partnered with her mom to sell handmade beaded jewelry & keychains, all the while her father would spoil her with encyclopedias, microscopes and other science kits. In her childhood home, there once was a mounted whiteboard in her bedroom. "My dad attempted to teach me Calculus," she laughs. "I was planning exit strategies and complaining but they were influential in pushing me even more towards math & science."
One of Deoja's favorite projects while at NASA was Project Morpheus, a rover designed to test green propulsion systems and autonomous landing and hazard avoidance technologies. After a few initial crashes, Deoja and her team watched as Morpheus rose from the ground, pulsated into the air and made a steady descent. "One of the most fulfilling moments of my career thus far."
With an ensemble cast including Academy Award winner Kevin Costner, The Big Bang Theory's Jim Parsons, Kristen Dunst and more, "Hidden Figures" keeps the focus of NASA and the Space Race with the Russians upon the actions of Johnson, Jackson & Vaughn. It's another major feather in the hat for Henson who has seen her career elevate beyond measure over the past decade. "I felt like it was my mission to do the film," Henson told Yahoo's Katie Couric. "It felt like a missing part of history that needed to be implanted back in."
Neither Valdés or Deoja knew of the importance of women in the space race, particularly that of Johnson, Jackson & Vaughan. NASA's history involving women throughout the years has involved the highlighting of its astronauts. In 1983, Sally Ride became the first American woman in space and remains the youngest to do so at age 32. Nine years later, Mae Jamison became the first African-American woman in space. Jamison's inspiration? Star Trek actress Nichelle Nichols. The nine-year gap between Jamison's first flight and Ride's breakthrough occurred due to concerns following the 1986 Challenger explosion.
While NASA may not have the diversity issues that face Hollywood, Valdés took on "Hidden Figures" to start the movement forward. "Representation is important," Valdés said. "It's really awesome when Hollywood can tell different kinds of stories and our responsibility is to make sure that diversity exists and all kinds of different stories get told."
She continued, "Especially in a field that is so important to the function of the world. Nothing in this world happens without math and in the mainstream, it isn't a "sexy" career. Hopefully this movie will help young people reconsider math and STEM and look at how important this skill is. You hear about all these potential jobs for women in this industry that may go elsewhere."
Deoja added, "Math is in everything. I think saying, "I want to be a mathematician" isn't all that glamorous but you can do so much learning math or learning engineering. The industry is growing so fast and they can't get enough coders or engineers to do these things. There's always a need."
The feeling that more women are needed in the field isn't lost on a woman like Spencer, whose own big break came in an unlikely manner. In 1996, she was set to assist the casting director on A Time To Kill before asking director Joel Schumacher to audition. Sixteen years later, Spencer won the Academy Award for Best Supporting Actress for her role in The Help. The voices of women, regardless of the field need understand their power and how they can affect change, especially in mathematics.
"There's been a marked decline of women and people of color in the STEM programs," Spencer told Yahoo! "And when I think about the implications, that means that the future of technology, science, engineering, mathematics will be devoid of the — the female voice, and that's scary."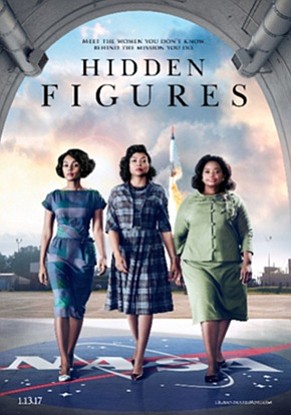 The initial trailer for "Hidden Figures" features a moment of racial levity. Henson, Spencer & Monáe are attempting to repair the Chevy Imapla they're car pooling in. Soon a white police officer pulls up and given the setting and era, racial tension immediately begins to rise. After recognizing their NASA credentials, the officer offers the three women an escort to their final destination. Monáe's Mary Jackson offers a retort only built around amazement. "Three negro women are chasing a white police officer down the highway in Hampton, Virginia, 1961," she says. "Ladies, that there is a God-ordained miracle!"
What nuances "Hidden Figures" does offer in regards to race, it settles it neatly. Costner's Al Harrison sports an image right out of the era; no nonsense and gum-chewing with a rather military style crew cut. So determined to see the mission through, he offers a blind eye to the turmoil within the office. Vivian (Kristen Dunst) offers a role of condescending white woman who may be able to empathize in regards to gender but not by race. Jeff Nichols' "Loving", a film with nearly identical undertones spoke to the climate of the late 1950s and early '60s through body language and non-verbal communication. "Hidden Figures" takes from Margot Lee Shetterly's book and gives those cues a bit of color. One pivotal scene involves Costner spitting in the face of Jim Crow laws by destroying a bathroom placard that denotes segregation. "Here at NASA, we all pee the same color!" he decries. It's meant for uplift and "Hidden Figures" does that aplomb.
There is buzz around the movie and how it may garner a few Oscar considerations. The women who were labeled by the media as NASA's "colored computers" are being hailed rightfully as heroes. John Glenn (Glen Powell), the astronaut whose mission to orbit the Earth wouldn't have been successful without Johnson's input delivers one of the film's more assuring lines. "Let's get the girl to check the numbers," he says. When asked which one, he simply replies, "the smart one."
For Valdés, jumping on a project like "Hidden Figures" coincides perfectly with her own career trajectory. A former editor at Latina magazine, she found herself in the producer's chair based upon her initial love of being a storyteller. When principal shooting for the film began, 20th Century Fox execs visited the set and wondered why everyone was so happy and connected to tell the story.
"Dope came to us before there was a script," she says. "When [director] Rick Famuyiwa described the film, I remember saying this: nerds in the hood … I can relate to this. Because I grew up in this. I'm from the projects, didn't have a lot of money, the "smart" girl."
She continued, "That's why "Dope" was attractive to me. Cause I've never seen a character like that, a nerd from the hood who wouldn't let his environment dictate who he should be. With my whole career, I've searched for the stories that haven't been told but also those that have universal appeal."
If few can relate to the racial subjugation found in "Hidden Figures", many can relate to the aspects of motherhood and womanhood. Valdés can recall conversations she had personally with Dorothy Vaughan in regards to the IBM computer. "I love scrappy," she jests. "I think that's why Dorothy was my favorite in that way. She found a way to remain relevant even when technology was going to make her obsolete."
Glenn's initial orbit led to the establishment of the Apollo program, one of then President John F. Kennedy's main resolves while in office. The technology then was not as sophisticated as today's iPhones and Samsung, although current technology dwarfs what NASA was capable off in the '50s and '60s. Valdés concern with "Hidden Figures" isn't that it will be the big film to put an end to a need for #OscarsSoWhite campaigns but whether or not the film will draw plenty of dollars to the box office. "Hidden Figures" is up against the second week of Disney's latest Star Wars film, "Rogue One"; an interstellar thriller with Chris Pratt and Jennifer Lawrence titled "Passengers" and the film adaptation of August Wilson's beloved play "Fences" starring Denzel Washington and Octavia Spencer's "The Help" co-star, Viola Davis.
She cites both "Coming To America" and "The Help" as films that not only had people of color but also had a universal appeal. "You have these three leads but more than anything, this is a universal story. A story anyone can relate to," she says. "And if it works that first weekend? You'll see Hollywood attempt to continue to make these stories. All in the name of making money."
---
Before the film's opening release Christmas Day, Valdés, Henson, Monáe, Spencer and others found themselves in even more esteemed company. A screening of "Hidden Figures" took place at the White House where First Lady Michelle Obama heaped praise not just for the film, but for the women who actively participated in its creation and getting it to the big screen.
On that day, Valdés wore a red dress. The already unmistakable woman had made it certain that she wasn't going to be ignored. Not on this day of days. Her smile big and wide, almost too excited to contain itself.
"I am so grateful to all of you for bringing this film to life, and for bringing these women out of the shadows," Obama remarked.
In that surreal moment, the weight of everything hit. The first family to break a barrier for a limitless generation of people of color was checking off mention of another first that deserved acclaim. The women of "Hidden Figures", both in real life and on screen were getting their just due.
Not lost on any party is the fact that the film will release nationwide days after the funeral of Glenn, the astronaut Katherine Johnson's configurations not only propelled into space but saved his life. Another facet of the story finally getting told.
"What I want girls to take away from this is a dream," Henson told Couric. "Hold it, keep it, dream it, and fight for it because it's a dream I never knew belonged to me."