Houston Texans Whitney Mercilus and the WithMerci Foundation Continue Their 12 Days of Giving Merci
Donating Toys to Children at Arrow Child & Family Ministries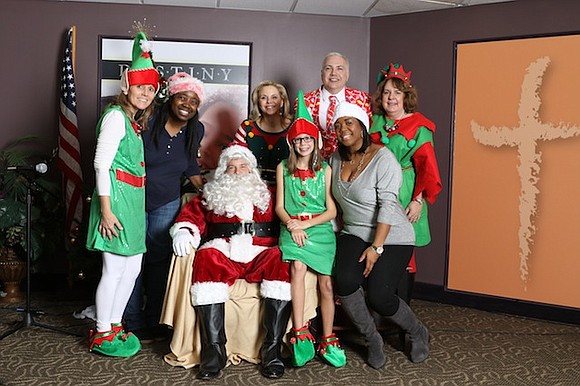 Houston, TX - Tis' the season of giving, Houston Texans Whitney Mercilus and The WithMerci Foundation will end its "12 Days of Giving Merci" by donating all the toys collected from the toy drive to Arrow Child & Family Ministries (2929 FM 2920 | Spring, Texas 77388) on Saturday, December 24, 2016 11:30 am to 1:00pm.Over the past 2 weeks Mercilus and the foundation partnered with Cloudbreak Creative Studios (744 Yorkshire), The Hay Merchant (1100 Westheimer Rd.), Bank of Texas (3009 Post Oak Blvd.), CNQRD (13940 Bammel N. Houston #310), The Empire Barber Studio (3843 Hopper Rd.) and Tailgater of the Year, Gorilla Meat Tailgaters, collecting hundreds of new unwrapped toys. Over a 150 children between the ages of 3 months to 15 years-old will receive a special Christmas from the Mercilus' family and friends and the WithMerci Foundation board. The families will be able to take pictures with Santa, have a Christmas story time, severed food and receive a toy. There will be a special surprise video from Mercilus for the children during the event in his absence.
During the 12 Days of Giving Merci, Mercilus surprised Texans fans with tickets to Texans home games, special autographed memorabilia, pizza parties and surprise meet and greets. "It fills my heart with gladness to be in a position to giveback and bring a smile to someone else this holiday season. I am beyond blessed to be in the position I am in. It is important that we remember the reason for the season." said Whitney Mercilus, Houston Texans Outside Linebacker and founder of the WithMerci Foundation.

Over 4,000 children, teens and families are impacted by services and programs of Arrow Child & Family Ministries each year. Arrow is a Christian provider of child welfare and education services for abused and neglected children and families in crisis. The organization provides an array of services including foster care, adoption, child sex trafficking rehabilitation and specialized education. All programs and services advance the well-being of children, families and communities while promoting Christian responsibility and a commitment to strengthen family life.
About The WithMerci Foundation
The WithMerci Foundation provides advocate services and support to families of children with disabilities and special needs. The WithMerci Foundation Vision - Start WithMerci by believing in and advocating for children around the world with disabilities and special needs. Live WithMerci through services and support that ensure children with disabilities feel included through all aspects of life. Work WithMerci through special sporting events and by providing education to individuals. Give WithMerci through financial support.