Staycation 2017: Boardwalk Inn, Kemah Boardwalk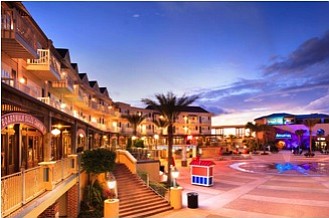 Once Halloween creeps around the corner life seems to kick into overdrive as fun and spooky costumes quickly give way to the wonderful smells of Thanksgiving dinner. As many dash to the delights of wrapping your loved ones' gifts and placing twinkling lights on Christmas trees.
I've come to cherish December as a time to give thanks, as well as gifts to those not on the naughty list. Unfortunately, the magic of Christmas and its jolly fat Santa is largely gone by adulthood, and in its place you learn to take joy in more practical things, like the Texas sized crockpot my sister gave me. You see, I love to entertain my friends and family often so this practical gift really meant a lot to me. Actually, tears were almost shed! And while I know I will put my new crockpot to good use, had I still believed and written a letter to Santa I think – well actually I know, I would have definitely asked a for a staycation nearby so that I could enjoy an evening out and a much needed good night's sleep.
For nearly two decades, Kemah has been one of the most premiere boardwalks in the country, offering big fun with a small-town vibe right at the water's edge. At the heart of it all is the Boardwalk Inn, a recently renovated treasure for those looking for a view of the bustling waterfront boardwalk. Moving against the traffic that was headed into Houston for the holidays, I traveled the opposite direction and made my way to the hotel, anxious for a mini-vacation ahead of Christmas. I quickly learned that whether looking for a family friendly destination or a simple romantic getaway, Kemah definitely has something for everyone.
A California native, upon arriving, I was immediately reminded of home. The boats tied to the dock similar to the Berkeley marina I've walked many times. With a parking garage tucked into the side of the building, I was able to access the hotel with ease. Inside, the Boardwalk Inn boasts a string of new renovations. Spacious and warmly decorated, seashells and well-placed ornaments created a unique seaside experience; fitting for a December day that had reached a high of 80 degrees. Welcome to Texas.
Check-in was quick yet personable, as the courteous staff armed me with a map of the boardwalk and offered suggestions on which attractions I might enjoy for the evening. Filled with amenities, the hotel offers everything from priority seating at boardwalk restaurants, to cruise packages for those looking to enjoy the scenic view of the Gulf Coast. There's something for everyone, including seasonal festivals, live entertainment and one-of-a-kind retail shops.
From there I headed to the fourth floor, a Presidential suite nestled at the end of the property. A fresh fruit bouquet and a tray of warm cookies and chocolate drizzled strawberries were waiting for my arrival, the personal touch adding to the experience. I was immediately blown away by the decor, modern yet laced with the feel of home.