"You're a Leader, Charlie Brown" by Charles Schulz and Carla Curtsinger, foreword by Brian Tracy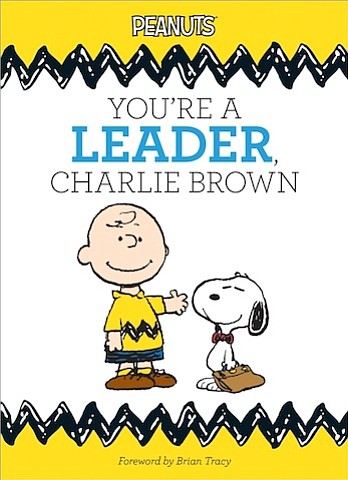 Sometimes, you just have to laugh.
That's how it is with business: you have to laugh because if you didn't, you'd cry. It's been that way for the past few years: up and down, good and bad, and there's always room for improvement. So why not find that help and laugh a little more by reading "You're a Leader, Charlie Brown" by Charles Schulz and Carla Curtsinger.
For most, if not all, of your life, you've chuckled at the antics of the Peanuts gang: the perseverance of Charlie Brown, the assertiveness of Lucy, the Zen of Linus. You've grown up with the comic strip – but did you ever think about the lessons you learned from it?
Take Charlie Brown, for instance. He's had a lot of failures with footballs, Halloween, a Little Red-Haired Girl, baseball, and other issues of life. He might have gotten a bit discouraged now and then, but he was always showed courage and tenacity with his goals and he was willing to try again.
There's no doubt that Lucy was in-your-face, but she got everyone's attention. That's not to say you should be bossy, too, but assertiveness is a good thing, as is confidence and a willingness to speak up when you have something to say. The one bit of advice that Lucy might give: remember, it's "not about you."
It might seem like Linus spends all his time in the pumpkin patch, but there are lessons there, too. Practice good listening skills, and show that you're paying attention to what's being said. Focus; ask good, pertinent questions; and then be silent. Use the 80 / 20 rule: listen eighty percent of the time and speak just twenty percent of any conversation.
Like Sweet Sally, being nice is important, as is the ability to be present when people are speaking. From Schroeder and his idol, Beethoven: practice, practice, practice. From Pigpen, learn to include everyone. Peppermint Patty would advise teamwork and to "own your personal style." And Snoopy might argue that adaptability is essential: really, it's not easy to sleep on top of a doghouse every night.
Huh. I guess I never thought of a comic strip as motivational, but when you think about it… well, maybe "You're a Leader, Charlie Brown" makes sense.
Then again, there's a lot of cutesy in this book. The late cartoonist Charles Schulz was, after all, entertaining people, not advising them on business, even though there are parallels that have been sitting in plain sight for decades. Still, there's no mistaking the fact that this book is soft, pretty darn fluffy, and filled with cartoons.
And yet, there's no doubt that new MBAs will get a kick out of this warm-fuzzy reminder of the get-ahead ideas we all learned early-on, while CEOs will find good, useful advice wrapped in happy childhood memories and lightheartedness. And so, because you know that a little levity is what you need at this time of year, read "You're a Leader, Charlie Brown." You may never work for Peanuts again.
Share this story online at www.stylemagazine.com.