Celebrate Black History Month with the Soulful Side of Pork
Chef Tre Wilcox shares his secrets to maintaining rich and savory soul food flavors without packing on the calories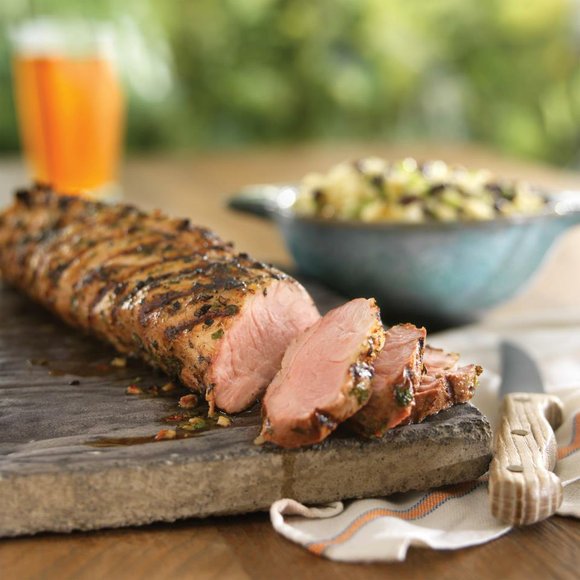 DES MOINES, Iowa (Feb. 2, 2016) – In celebration of Black History Month and American Heart Month, the National Pork Board (NPB) has teamed up with Tre Wilcox , a James Beard Award-nominated chef and television personality, to share a variety of reimagined soul food-inspired pork favorites with a healthy twist. Chef Tre will show home cooks how they can serve up the Soulful Side of Pork without sacrificing the rich and savory flavors that make soul food so delicious.
"Incorporating lean cuts into everyday soul food dishes is an excellent way to reduce fat, which cannot only help keep our waistline in check, but can also keep our heart healthy. This is especially critical for African Americans, who unfortunately overindex in heart disease, hypertension and obesity," said Celebrity Chef Tre Wilcox, knowned as the Chef-tainer, founder of TRE Cooking Concepts and a contestant on Season 3 of Bravo's Top Chef and Top Chef All-Stars.
Soulful Side of Pork encourages African American consumers to reconnect with their heritage and explore soul food in new, healthy and unexpected ways. All pork recipes, featured on PorkBeInspired.com, use leaner cuts of pork that offer a great way to reduce fat, calories, and sodium. Pork tenderloin, in particular, is certified as heart-healthy by the American Heart Association.
SOULFUL AND HEART HEALTHY PORK RECIPES
Jerk Seasoned Pork Tenderloin –Keep your heart health in check with this delicious, lean and easy-to-make pork tenderloin. Enjoy with sweet potatoes o even steamed cabbage. This recipe is 152 calories and has 7 grams of fat.
Sizzling Chili Pork Chops – Bring the sizzle with these flavorful chili pork chops that can be ready in no time – perfect for any day of the week. This recipe is 237 calories and has 13 grams of fat.
Spicy-Sweet Pork Stir Fry – Celebrate heritage and history with this sweet and spicy recipe featuring corn, garlic, chili sauce, rice wine vinegar and, of course, pork! This recipe is 262 calories and has 9 grams of fat.
For best results, NPB recommends cooking your pork to an internal temperature between 145°F and 160°F with a 3 minute rest. Use a digital thermometer to check doneness and to ensure juiceness of the pork.
To find more pork recipes and cooking tips, visit PorkBeinspired.com. Follow Pork Be inspired on Pinterest, Facebook, Twitter and Instagram for delicious pork recipes.
About Chef Tre Wilcox
Tre Wilcox, award-winning chef and television personality, is the owner of TRE Cooking Concepts and co-owner of Julia Pearl Southern Cuisine Restaurant in Plano, Texas. Wilcox is knowned as the Chef-tainer, and is a former contestant on Season 3 of Bravo's Top Chef and Top Chef All-Stars. He has been named Best Chef by the Dallas Morning News and has been featured in Gourment, Modern Luxury and Food & Wine magazine. For more details about Wilcox, visit www.trewilcox.com.
About the National Pork Board
The National Pork Board has responsibility for Checkoff-funded research, promotion and consumer information projects and for communicating with pork producers and the public. Through a legislative national Pork Checkoff, pork producers invest $0.40 for each $100 value of hogs sold. Importers of pork products contribute a like amount, based on a formula. The Pork Checkoff funds national and state programs in advertising, consumer information, retail and foodservice marketing, export market promotion, production improvement, technology, swine health, pork safety and environmental management. For information on Checkoff-funded programs, pork producers can call the Pork Checkoff Service Center at (800) 456-7675 or check the Internet at www.pork.org.