Texas Team Trail Presented by Cabela's Concludes Season Opener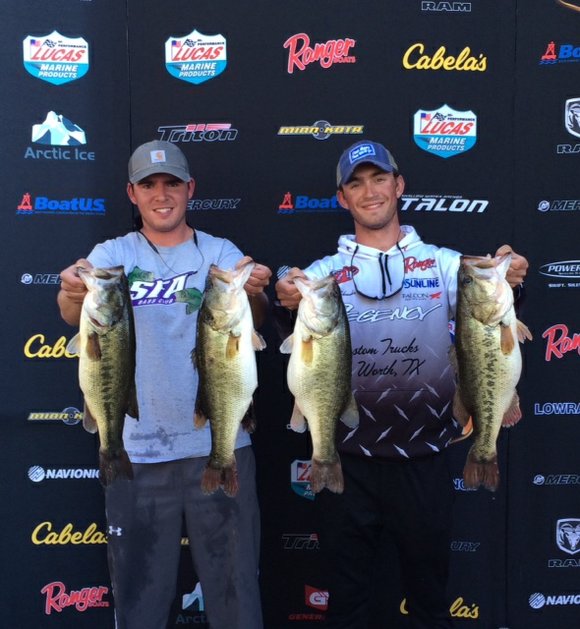 NEW SMYRNA BEACH, Fla. (February 2, 2016) - Blake Schroeder and Easton Heigley, college anglers from Stephen F. Austin University, brought 27.06 pounds of bass to the scales to win the 2016 season-opening event of the Texas Team Trail presented by Cabela's (TXTT) on Jan. 30 at Sam Rayburn Reservoir. The winning anglers took home a brand new Triton 189TRX powered by a 150 hp Mercury outboard. Along with with contingency prize money, the duo earned a total of $29,525 in winnings.
The event set a TXTT record for registering 352 teams and paid out more than $126,000 in winnings. Sam Rayburn, meanwhile, proved once again to be a premier tournament destination with 14 limits over 20 pounds and more than 150 teams reaching a five-fish limit.
Schroeder and Heigley call Sam Rayburn their home waters and routinely fish there as part of Stephen F. Austin's fishing team. With Rayburn just a quick drive south, the anglers proved practice, consistency, and local knowledge as keys to success on tournament day.
"We had some areas where fish normally hold this time of year," said Schroeder. "We've been on them for a couple weeks and we just continued to check on them. These are classic prespawn areas. Last year, we kind of fell behind the curve and were too late to adjust. This year we stayed on top of what the fish were doing."
Despite fishing against more than 350 other teams, the winners felt confident they could pull off the win. It was a chance for both anglers to fish with their role models and prove they have what it takes to make it to the next level.
"It's an honor to beat those guys," said Schroeder. "We've seen a lot of them on TV growing up. We knew we had the talent to compete but we had to execute. It feels great to be number one in a 350-boat field."
High water levels resulted in wide range of opportunities for tournament anglers. Four of the five fish weighed by Schroeder and Heigley came from fishing 15-20 feet deep with a Carolina Rig. The deep bite wasn't the only pattern producing results. Three of second place Kris Wilson and Charles Bebber's fish came on spinner baits and crankbaits in shallow water around bushes.
"We caught three early," said Wilson. "Then we moved another 10 miles up the lake. We caught one more up shallow there. Then we went deep and fished small, pinpoint structures - running all over place. We caught a limit and then culled one here, one there. We probably caught more deep, but three of the five that rode to weigh-in came from up shallow."
Wilson, of Montgomery, Texas, and Bebber, of Willis, Texas, finished second place with a total weight in of 24.68 pounds and a total paycheck of $11,301.
"Overall, we fished clean," said Wilson. "We're happy with second place. We never did feel like we had enough to win. We knew it would take at least one more big fish. It usually takes a lot more weight than that."