American Masters: B.B.King: The Life of Riley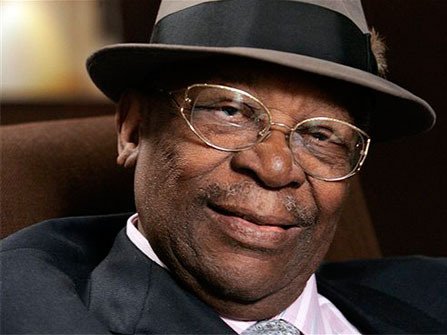 THIRTEEN's American Masters Tells the Story of Legendary Bluesman B.B. King During Black History Month on PBS
B.B. King: The Life of Riley premieres nationally Friday, February 12 at 9 p.m. (check local listings) Features interviews with Bono, Eric Clapton, Aaron Neville, John Mayer, Bonnie Raitt, Carlos Santana, Ringo Starr, and more
Preview video and connect with other cultural icons at pbs.org/americanmasters
B.B. King, born Riley B. King, was one of the most influential and celebrated blues musicians of all time. From his roots as a sharecropper's son, working in the cotton fields of Mississippi, he rose to become a living legend — the most renowned blues singer, songwriter, musician, and record producer of the past 40 years — earning the moniker 'King of the Blues'. King's story of struggle and triumph is chronicled in American Masters: B.B. King: The Life of Riley, premiering nationwide during Black History Month on Friday, February 12 at 9 p.m. (ET) on PBS (check local listing). Academy Award winner Morgan Freeman narrates and appears in the film.
Made with the full cooperation of The B.B. King Museum and Delta Interpretive Center in Indianola, Mississippi, B.B. King: The Life of Riley was filmed in locations across America, as well as the United Kingdom. Award-winning Producer/Director Jon Brewer worked on the film with King for two years. Filming was completed shortly before King passed on May 14, 2015.
B.B. King: The Life of Riley explores King's challenging life and career through candid interviews with the man himself, his family, longtime friends, and fellow music contemporaries such as Bono, George Benson, Eric Clapton, Aaron Neville, John Mayer, Bonnie Raitt, Carlos Santana, Ringo Starr, Johnny Winter, and more.
Born September 16, 1925 on a plantation in Itta Bena, Mississippi, near Indianola, King was raised by his maternal grandmother, Elnora Farr in nearby Kilmichael. After she died, his father brought him to live in Lexington. There, for the first time, King experienced segregation. A mob hung a black boy and dragged him behind a car to the courthouse in Lexington. King witnessed the boy being dragged; it was an image he would never forget. Like so many blacks of his generation, King was subjected to bigotry, racism, hatred and denial. But he never allowed it to destroy his spirit or his music.
King candidly reminisces about memorable people in his life such as preacher Archie Fair, the first person he heard play an electric guitar; cousin Bukka White, who taught him about being a blues singer; the musical influence of bluesman T-Bone Walker and French jazz guitarist Django Reinhardt; his stint as a disc jockey where his radio names (Beale Street Blues Boy and Blues Boy King) were eventually shortened to B.B. King; and how and why he came to name his guitars Lucille. A bittersweet moment in the film is King's reflection on marriage. King had two wives, Martha Lee Denton, and then Sue Carol Hall. The failures of each marriage were attributed to King's relentless touring schedule.