American Masters: B.B.King: The Life of Riley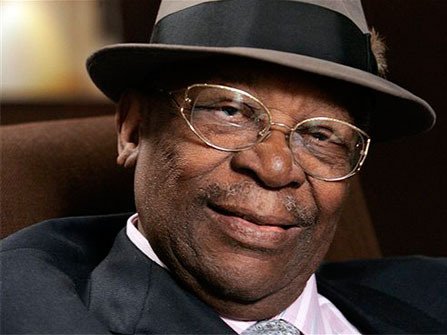 Rare archival footage is interspersed throughout the film, including his 1968 performance at Bill Graham's Fillmore West where he was billed with some of the hottest rock stars, who idolized him and helped to introduce him to a young white audience.
Among the highlights from the film is footage of King's collaboration with Bono, where King reveals that he "does not do chords," and the story behind King and Eric Clapton's recording of Riding with the King. Though he made an exception for Clapton, King admits he doesn't like to play acoustic guitar.
The 'King of Blues,' who delighted audiences around the world with such classic R&B hits as Three O' Clock Blues, Paying The Cost To Be The Boss, Every Day I Have The Blues, and of course his most popular cross over hit, The Thrill Is Gone, died at age 89. The city of Memphis, where he had performed so many times, held a funeral procession for him down Beale Street, with a brass band marching in front of the hearse, playing When the Saints Go Marching In.
"Play the best that I can. Reach as many people as you can, as many countries," says King. "In other words, I'd like the whole world to be able to hear B.B. King sing and play the blues."
"B.B. King became America's most recognizable and influential blues musician," says Michael Kantor, executive producer of American Masters. "The thrill isn't really gone yet – I think anyone who sees this film will be thrilled and inspired by this legendary artist."
The 30th anniversary season of American Masters continues with new documentaries about fellow music legends Carole King (February 19), Fats Domino (February 26), Loretta Lynn (March 4), Janis Joplin (May 3) and The Highwaymen (May 27).
Launched in 1986, American Masters has earned 28 Emmy Awards — including 10 for Outstanding Non-Fiction Series since 1999 and five for Outstanding Non-Fiction Special — 12 Peabodys, an Oscar, three Grammys, two Producers Guild Awards and many other honors. Now in its 30th season on PBS, the series is a production of THIRTEEN PRODUCTIONS LLC for WNET and also seen on the WORLD channel.
American Masters: B.B. King: The Life of Riley is a production of Emperor Media Ltd. in Association with KingSid Ventures Ltd. & Cardinal Releasing Ltd. The show is distributed by BBC Worldwide North America. Producer and Director is Jon Brewer. Executive Producers are Jon Brewer and Tina France. Associate Producer is Laura Royko, Assistant Producer for American Masters Edited Version is Chantell Basiacik. Narrator is Morgan Freeman.
Funding for American Masters is provided by The Corporation for Public Broadcasting, Rosalind P. Walter, The Philip and Janice Levin Foundation, Judith and Burton Resnick, The Blanche & Irving Laurie Foundation, Vital Projects Fund, Ellen and James S. Marcus, Michael & Helen Schaffer Foundation, Lenore Hecht Foundation, The André and Elizabeth Kertész Foundation, and PBS. Support for this program also provided by National Endowment for the Arts.
About WNET
As New York's flagship public media provider and the parent company of THIRTEEN and WLIW21 and operator of NJTV, WNET brings quality arts, education and public affairs programming to more than 5 million viewers each week. WNET produces and presents such acclaimed PBS series as Nature, Great Performances, American Masters, PBS NewsHour Weekend, Charlie Rose and a range of documentaries, children's programs, and local news and cultural offerings available on air and online. Pioneers in educational programming, WNET has created such groundbreaking series as Get the Math, Oh Noah! and Cyberchase and provides tools for educators that bring compelling content to life in the classroom and at home. WNET highlights the tri-state's unique culture and diverse communities through NYC-ARTS, Reel 13, NJTV News with Mary Alice Williams and MetroFocus, the multi-platform news magazine focusing on the New York region. WNET is also a leader in connecting with viewers on emerging platforms, including the THIRTEEN Explore App where users can stream PBS content for free.
For more information, visit pbs.org/americanmasters