World Celebrities 'Join the Herd' to Fight for Africa's Elephants
A team of celebrities led by Yoko Ono, Yao Ming, Lupita Nyong'o and Ian Somerhalder call on world leaders to end the ivory trade and make 2016 the YEAR OF THE ELEPHANT, when more elephants are born th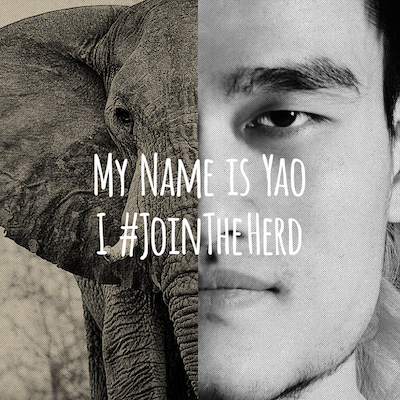 NEW YORK (February 4, 2016) — With momentum building to finally stop the illegal ivory trade and end the years-long poaching war on elephants, a global team of celebrities and conservation groups led by WildAid has launched #JoinTheHerd, a new social movement to make 2016 the year when more African elephants are born than killed.
Actors, musicians, authors and athletes who have "joined the herd" Thursday on social media represent five continents and include Academy Award-winning actress Lupita Nyong'o, Yao Ming (former NBA star), Yoko Ono, Ian Somerhalder (Vampire Diaries) & Nikki Reed (The Twilight Saga), Alikiba (Tanzanian music artist), Lang Lang (virtuoso pianist), Maggie Q (Nikita and Scandal), Sophia Bush (One Tree Hill), Sir Trevor McDonald (British news presenter), Bo Derek (actress and WildAid ambassador), Kristin Bauer (actress, HBO's True Blood), Laurie David (American environmental activist), and Li Bingbing (China's most famous actress).
Launched internationally in both English and Mandarin, the campaign encourages anyone who cares about elephants to #JoinTheHerd by changing their social media profile photo at YearoftheElephant.org or even learn to say the greeting in Chinese. To coincide with the upcoming Chinese New Year, visitors to the website are encouraged to join a cast of celebrities in wishing their social media friends and followers a "Happy Year of the Elephant" — a new twist on welcoming the Chinese Zodiac's Year of the Monkey on February 8.
This week's social media blitz is the first in a year-long series of international campaign activities for Year of the Elephant, including celebrity-hosted events, rallies, and design and photography competitions to celebrate elephants and ensure that the world's illicit ivory trade is shut down, once and for all.
For nearly a decade, rising consumer demand for ivory has fueled a poaching epidemic throughout Africa — decimating forest and bush elephants alike, leaving baby elephants without their mothers, and stripping local communities of desperately-needed tourism revenue. Meanwhile, militant groups have profited from the ivory trade, creating regional instability and strife. An estimated 33,000 African elephants are killed every year for their tusks.
But in just a few short months, world leaders have finally charted a course to ending the crisis. In September, President Barack Obama and President Xi Jinping agreed to phase out commercial ivory sales in the United States and China — an accord that also depends upon the closure of the Hong Kong market, which caters overwhelmingly to visitors from mainland China, the world's largest ivory market.
The Hong Kong government has been a fierce supporter of its large domestic ivory trade. With international criticism mounting, however, last month Hong Kong Chief Executive Leung Chun-ying made a stunning announcement: The government will work to ban the local ivory market.
"Finally there is a glimmer of hope for the world's elephants, with the United States, China, Hong Kong committing to end the ivory trade," said WildAid CEO Peter Knights. "But there is much work to be done. Year of the Elephant is a trumpet call to action: We are here to ensure that promises are kept and elephants are saved."