6th Annual Houston Kosher Chili Cookoff Announces Official 2016 Sponsors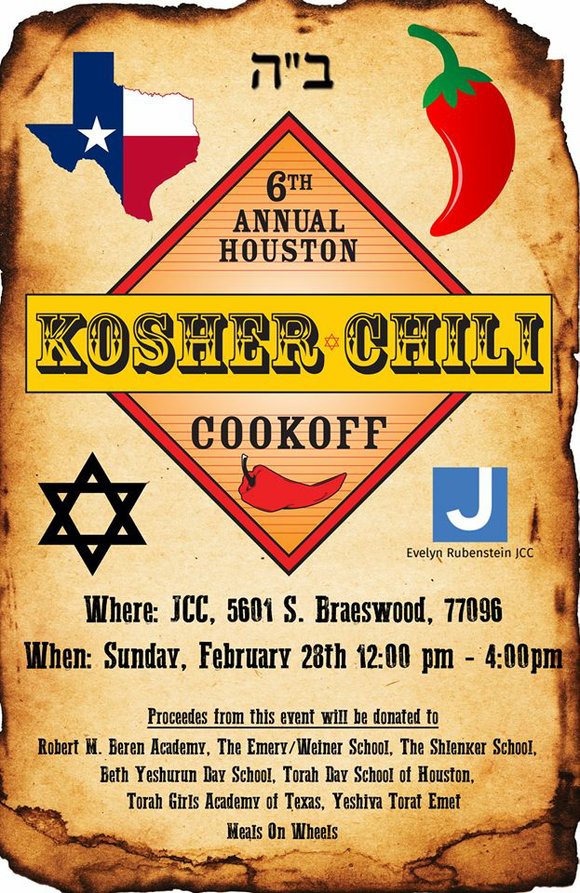 Houston, TX (February 8, 2016) - The 6th Annual Kosher Chili Cookoff is proud to announce its 2016 sponsors for its annual family fun community event. The 2016 event will be held on Sunday, February 28th at the Evelyn Rubenstein Jewish Community Center.
Corporations and businesses significantly support the non-profit organizations in the Houston Jewish Community that benefit from the proceeds of the event, which include the Jewish Day Schools including Beren Academy, Beth Yeshurun Day School, Emory Weiner, The Shlenker School, Torah Day School, Torah Girls Academy, Yeshiva Torat Emet and the Evelyn Rubenstein Jewish Community Center's Meals on Wheels. Investments like theirs allow the cook off to continue bringing the communities together for the largest kosher food event in Houston.
"Our sponsors make this cook off possible and we are grateful for their support this year and every year", said State District Judge Mike Engelhart, a member of the Houston Kosher Chili Cookoff board of directors. "We will honor them by putting on our greatest event yet with our 6th Annual Kosher Chili Cookoff. It's the largest Jewish-community wide event of its type in Houston and the generosity of our sponsors and their enthusiasm for our common goal of bringing our community together for fun and food with a little kick is amazing."
Sponsors confirmed to date:
Habanero - Blazing Event Underwriter
Evelyn Rubenstein Jewish Community Center
Serrano - Hot Sponsor
Mostyn Law Firm
Jalapeño - Spicy Supporter
Kenny & Ziggy's
Proguard
TEI - Traffic Engineers, Inc.
Poblano - Strong Seasoning Sponsor
Don Levit Family
Houston Kashrus Association
Interra Capital Group/Dunhill
JGR Computer Services
Judge Alix Smoots-Hogan
Julie Countiss for Judge
Lisa Ketai for Judge
Nationwide Insurance
St. Arnold's Brewery


Bell - Flavor Enhancer Sponsor
Aqua General
Brian Gavin Diamonds
Café at the J
Cersonsky, Rosen & Garcia, P.C.
Gross & Foster Financial Services
Harris County Democratic Party
James Cargas for Congress
Judge Mike Engelhart
Judge R.K. Sandill
Judge Steve Kirkland
Kristen Hawkins for Judge
Mehadrin Kosher of Texas
Morris, Lendais, Hollrah & Snowden, PLLC
Reiner's Jewelry
Rockwell Management
Terrain Solutions Inc.
TwinCo
UOS Goldberg Montessori School
Vogue Cleaners
Zalmen & Miriam Lazaroff & Family
Media Sponsors
Houstonia Magazine
Buzz Magazines
Chile Pepper Magazine
Greensheet
HTexas Magazine
Jewish Herald Voice
Key Magazine
MyTable Magazine
Small Business Today Magazine
Village & Southwest News
The event will be held on Sunday, Sunday, February 28, 2016, from 12 p.m. - 4 p.m. at the Evelyn Rubenstein Jewish Community Center in Houston. The cookoff attracts more than 3,500 attendees annually for live music, a moonwalk, climbing walls, balloon artists, a jalapeno eating contest and a silent auction as they taste some of Houston's best kosher chili.
For more information on the Houston Kosher Chili Cookoff, please visit www.houstonkosherchilicookoff.com or follow us on Facebook or Twitter.