Taiwanese-American Conductor Mei-Ann Chen Leads Houston Symphony in Lunar New Year Concert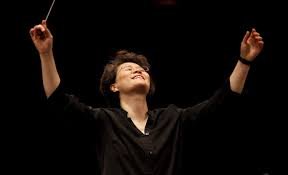 HOUSTON (February 8, 2016) – The Houston Symphony celebrates Houston's diverse Asian community and the Year of the Monkey with a s­pecial Lunar New Year concert featuring compositions from Asian and Asian-American composers.
Acclaimed guest conductor Mei-Ann Chen leads the orchestra for this crowd-pleasing program showcasing Asia's unique cultural fabric at 7:30 p.m. on Thursday, February 18 at Houston Baptist University's Morris Cultural Arts Center. Chen was recently named one of Musical America's Top 30 Influencers of 2015 and artistic director of the 2016 National Taiwan Symphony Orchestra Summer Festival.
The hour-long program commences with Li Huanzhi's cheerful Spring Festival Overture, considered a musical and cultural gem in the Chinese community. The overture is a work that celebrates and promotes prosperity and good fortune.
In her Houston Symphony debut, violinist Jessica Lee will perform an excerpt of Butterfly Lovers Violin Concerto, which was written in 1959 by two Chinese composers, Chen Gang and He Zhanhao. The Concerto is a dramatic orchestral adaptation of an ancient Chinese legend that tells the story of a boy who dies of a broken heart after his beloved girl is promised into marriage to another man. In her grief and as her wedding procession passes by the boy's grave, the girl jumps into his resting place from where they both emerge as two butterflies, united forever.
The violin solo and the principal cello represent the girl and the boy, respectively, in this single-movement Concerto. Composed for the western-style orchestra, Butterfly Lovers Violin Concerto uses melodies from traditional Chinese folk songs and is one of the most famous modern Chinese orchestral pieces.
Also on the program are Beo Dat May Troi, a popular Vietnamese folk song arranged for orchestra by Vietnamese leading cellist Ngo Hoang Quan, and Gong Xi Gong Xi, a popular mandarin song whose title is a common Lunar New Year greeting, making it almost exclusively associated with this holiday. The song is also known for celebrating the arrival of spring. Gong Xi Gong Xi, the last piece on the program, will include a sing-along component with conductor Chen leading the audience.
The concert will take place at the Morris Cultural Arts Center on the campus of Houston Baptist University at 7502 Fondren. To purchase tickets, click here.
For more information, visit houstonsymphony.org