20th Annual Texas Lunar Festival To Be Held At City Hall In Downtown Houston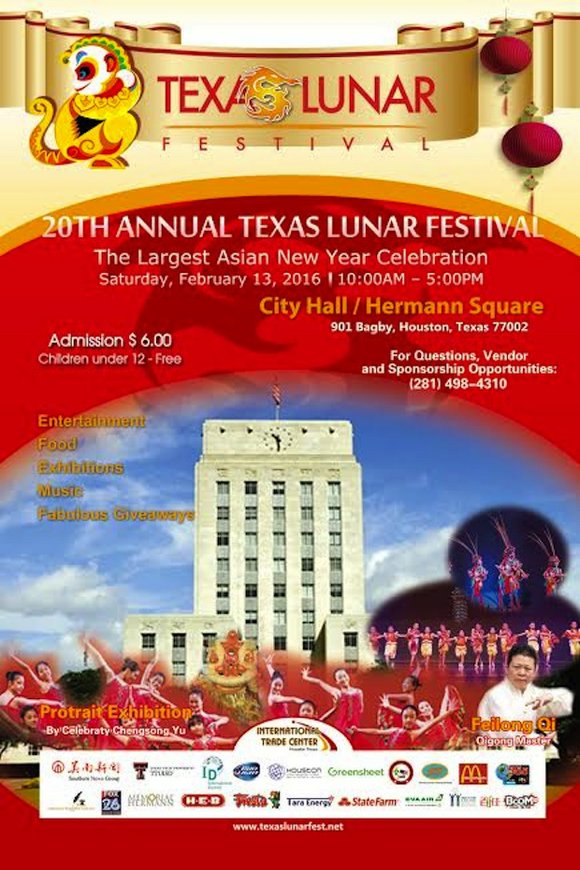 (Houston, Texas) The 20th Annual Texas Lunar New Year Festival Celebration (operating under The Chinese New Year Festival Inc., a non-profit organization), will take place on Saturday February 13, 2016, at the reflection pond at Hermann Square in front of Houston City Hall in downtown Houston from 10 AM – 5PM.
This year's 20th Annual Texas Lunar New Year Festival, www.texaslunarfest.net, marks the second time the multi-cultural event is being held in the downtown Houston area, having been held last year at Discovery Green Park Southern News Group, located in southwest Houston, is the founding organization of the Texas Lunar New Year Festival. Southern News Group is a multi-media communications company that includes publication of daily Chinese newspapers with editions in major U.S. cities, a daily online newspaper edition, a digital television station, yellow pages, printing services and a world-class International Trade Center event complex, Southern News Group is now the largest Asian media organization in the southwestern part of the United States.
This year Southern News will team up with more than 100 companies and organizations from the many communities of Houston, offering a series of displays, food booths, entertainment, acrobats, lion dancers, world-class Shaolin Temple Wushu martial arts demonstrations and games and door prizes for all ages. Activities are selected to compliment this great and exciting celebration with lively entertainment for the entire family. Last year's celebration drew over 20,000 attendees. The year of 2016 according to the Chinese Lunar Calendar is the Year of Monkey.
The Texas Lunar New Year Festival celebration is the largest celebration of the Asian New Year in the southwestern United States. It is a one-of-a-kind family oriented event that attracts large numbers of people from every ethnic group.
Since 1979, Southern News Group has not only built the largest Asian media complex in the southwestern United States, but has also reached out to the broader community of southwest Houston with programs that respond to the growing ethnic diversity of this unique section of one of America's fastest growing cities. We have initiated and been the driving force behind many community projects, programs and events that include the Texas Lunar New Year Festival, the McDonald's Education Workshops, the Texas African Summit, the ITC Education Institute and have aired many more educational, cultural and business-related television programs on our digital television station, ITV International 55.5, as well as having hosted over 200 international business related meetings and events at our International Trade Center.
The promoters of this year's event are Southern News Group, Chinese New Year Festival Inc., International Trade Center, International Management District, USA Printing, ITV International Television 55.5, International Press Club, Southwestern National Bank, and Chinese Chamber of Commerce of Texas.
For more information please contact Jennifer Lopez at 281-983-8154 or jenniferitc@gmail.com or Angela Chen at 281-983-8160 or angela@scdaily.com.
The Texas Lunar Festival is a production of Southern News Group (www.scdaily.com), Houston, TX.
Chinese New Year Festival 11122 Bellaire Blvd. Houston, TX 77072 281-498-4310 Fax 281-498-2728