ParkHouston Launches Downtown Parking Meter Upgrade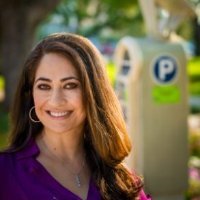 HOUSTON – ParkHouston—a division of the City of Houston's Administration and Regulatory Affairs Department—kicked off the first phase of the City's parking meter upgrade today with the deployment of 276 new solar-powered parking meter pay stations located throughout downtown. In October 2015, Houston City Council approved a $10 million plan to update the City's entire fleet of 1,054 parking pay stations over the next five years.
"It's important our technology keeps up with our times," said Maria Irshad, Assistant Director for ParkHouston. "When these meters were installed, flip-phones were new and MySpace was the most visited website of the year. These new pay stations have a 50% faster processing time and feature pay-by-plate technology to make parking as easy as possible."
Technology has greatly improved since the current pay stations were deployed in 2006. The new pay stations feature longer-lasting batteries, next-generation solar technology, faster processors and improved modem networks that have been found to improve overall pay station response times by 50%. The pay-by-plate feature allows customers to pay using their license plate rather than use a dashboard receipt. Customers can also choose to receive a text message alert 15 minutes prior to time expiring. Customers paying by credit card can "re-feed the meter" and extend their parking time by simply responding to the text message. The pay stations will continue to accept all other payment options including coins, cash, credit cards and the Parkmobile app.

"Our goal is to make parking in Houston quick and easy for our customers," said Irshad. "Customers were tired of printing dashboard receipts and paper jams every time it rained. We listened to their concerns and now have a pay-by-plate option, stronger batteries and paper-jam sensors custom designed for Houston."
ParkHouston's top customer complaint was that pay stations malfunctioned on dark, rainy days—a frequent occurrence here in Houston. In addition to battery and solar-panel improvements, the City worked with pay station designer T2 Systems to incorporate a paper-jam sensor that could withstand Houston's humidity and heavy rain to prevent customers from paying at a pay station that fails to print a receipt. Each new pay station will have a special paper-jam sensor that will notify the ParkHouston office in the event of a paper jam. The pay station will immediately stop processing transactions and instead direct customers to pay at another pay station.
Installation of the 276 pay stations began in January and should be completed by the end of March. The pay stations feature the same operating system as the existing fleet and maintain the same "look and feel" to minimize confusion. ParkHouston will station "Parking Ambassadors" in the deployment area with instructional cards to answer any questions about the new pay stations and their new features.
For more information on ParkHouston or the City's new parking pay stations, please visit www.parkhoustontx.org.