Fall Creek Vineyards wins inaugural 'Commissioner's Top Texas Winery 2016' Award from the Houston Livestock Show and Rodeo's Uncorked! International Wine Competition and the Texas Department of Agricu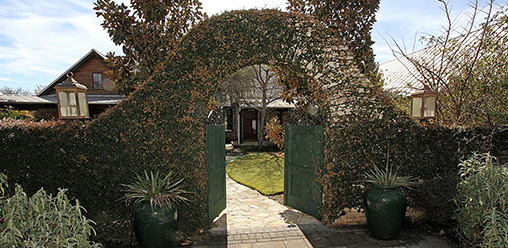 Tow, TX – FALL CREEK Vineyards is the proud recipient of a new 'Commissioner's Texas Top Winery Award 2016', presented by Rodeo Uncorked! International Wine Competition at the Houston Livestock Show and Rodeo and the Texas Department of Agriculture. The award will be presented at the Champion Wine Ceremony , in the Louis M. Pearce Board Dining Room at the Rodeo Uncorked! by Commissioner, Sid Miller.
Criteria for this inaugural award included entry of at least six different Texas wines with the highest average performance in the overall competition. Rankings were based upon the total number of Class Champion, Reserve Class Champion, Texas Class Champion, Reserve Texas Class Champion, Double-Gold, Gold, Silver, Bronze, Top Texas Wine and other Best of Show awards garnered by a winery and divided by the total number of wines entered.
Two FCV wines, the 2014 Chardonnay, Certenberg Vineyard, Texas Hill Country, and the 2015 Grenache Rose, Salt Lick Vineyards, Texas Hill Country, won Gold medals at the competition, while the 2013 GSM, Terroir Reflection, Salt Lick Vineyards, Texas Hill Country, 2013, captured Double Gold, as well as Texas Class Champion.
"We are deeply honored to be the inaugural recipient of this prestigious award," says Ed Auler, Co-owner of Fall Creek Vineyards. "These Champion FALL CREEK Vineyards wines are the direct result of our Director of Winemaking, Sergio Cuadra's sensory talent and attentive watch over the grapes which Salt Lick Vineyards and Certenberg Vineyard grow so painstakingly."

The Aulers brought in a new Director of Winemaking, Sergio Cuadra, three harvests ago, and just last week announced yet another new member of the FCV winemaking team: Assistant Winemaker Phillip Boyd Price, from Prichard Hill's Napa Valley BRAND Cabernet Sauvignon, which Robert Parker gives highest marks.
Cuadra brought a global perspective to Fall Creek Vineyards, having made some of the finest wines in Chile, having worked as Chief Winemaker for many years at two highly successful Chilean companies; Concha Y Toro and Caliterra, sister company of Viña Errázuirz. He joined Anakena wines in 2010, where he worked with the consultancy of Paul Hobbs, who subsequently recommended Cuadra to the Aulers and FALL CREEK Vineyards.
Fall Creek Vineyards is one of the three oldest wineries in the state, and Ed, along with co-owner and wife Susan Auler, are well-known throughout the industry for securing the 'Texas Hill Country' appellation (AVA) designation for the Hill Country, which is one of the largest Viticultural Areas in the country. They opened a second location, in Driftwood, Texas (18059 FM 1826) just over one year ago. For more information, visit www.fcv.com
About Fall Creek Vineyards:
Founded in 1975, FALL CREEK VINEYARDS is centrally located on the northwest shores of beautiful Lake Buchanan at Tow, Texas, in the Hill Country, and is open to the public every day. Visitors enter the spectacular winery property down an allée of Cyprus trees and are greeted by an inviting courtyard ensconced by classical architecture. In 1975, to celebrate their 40th year since first planting grapes in the Texas Hill Country, the Aulers opened their 2nd winery, Fall Creek Vineyards at Driftwood, directly across FM 1826 from Salt Lick BBQ and Vineyards where Fall Creek harvests grapes. Their many acclaimed, hand sculptured wines include: Chardonnay, Chenin Blanc, Sauvignon Blanc, Muscat, Cabernet Sauvignon, Tempranillo, Merlot, Grenache, Syrah, Mourvedre, the acclaimed Meritus (red blend of Bordeaux varieties), and others. For more information, visit www.fcv.com.