Hip Hop Has Won 1.2% Of Major Grammy Awards Since 1989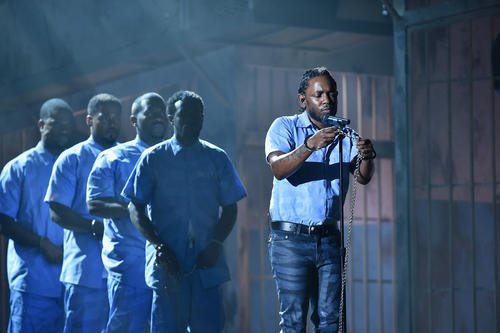 On paper, Kendrick Lamar had a successful Grammys last night -- he shut down the house with one of the best televised music performances ever, and took home five awards to boot. None of these awards came from the Grammy's three major categories – Album of the Year, Song of the Year, Record of the Year.
According to an article published in the Washington Post, hip hop has accounted for only one of 81 (1.2%) major category winners since receiving its own genre category in 1989 -- Outkast's Speakerboxxx/The Love Below, which took home Album of the Year in 2004. Of 421 nominations during that timespan, 34 (8.1%) have been hip hop artists.
These numbers do not account for genre classification discrepancies -- e.g., Lauryn Hill's The Miseducation of Lauryn Hill was classified as an R&B album when it won won Album of the Year in 1999. With that in mind, hip hop is still underrepresented at the Grammys in proportion to its market share. Whereas pop accounts for 15% of album sales and 27% of major Grammy wins, hip hop accounts for 10% of album sales and 1% of major Grammy wins.
For more information go to http://www.hotnewhiphop.com