Cirque Du Soleil's Toruk- The First Flight Soars into Houston Amid Much Excitement!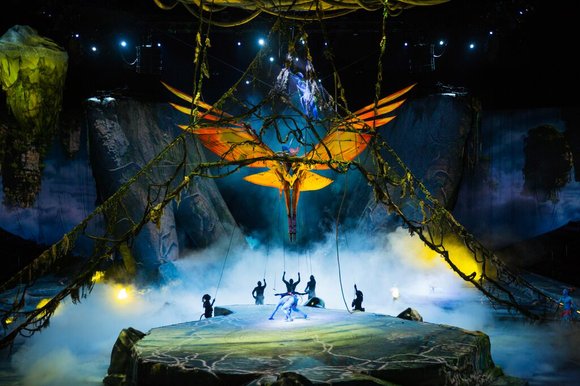 The much-anticipated show Toruk is Cirque Du Soleil's latest grand production and it is nothing short of visually sensational and thrilling. Backed by an amazing team that includes writers and directors Michel Lemieux and Victor Pilon, creation director Neilson Vignola, talented set designer Carl Fillion, and brilliant costume designer Kym Barrett. The production also includes an incredible musical score composed by Bob & Bill (Guy Dubuc and Marc Lessard).
This magical Cirque Du Soleil story is inspired by James Cameron's Avatar and takes place on Pandora around 3,000 years prior to the events of the film. The story follows the brave journey of Ralu, Entu and Tsyal. When a natural disaster threatens to destroy the sacred Tree of Souls, Ralu and Entu, two Omaticaya tribe boys on the verge of manhood, decide to take matters into their own hands. Upon learning that Toruk, a huge and feared dragon-like creature, holds the key to save the Tree of Souls, they set out on an heroic adventure to find the mighty feared predator that rules the sky and hopefully save the Na'vi tribe from a terrible prophesied fate.
What to Expect: This is not your typical Cirque Du Soleil production and if you have seen other shows then you will be quite surprised. Toruk- The First Flight offers something refreshing and different. With this production expect a story not centered on acrobatics, but a show centered on heart felt characters and it's beautifully written story. It's honestly a completely new experience I feel Cirque Du Soleil offered their audience and it's why I'm rating it a must see. Toruk-The First Flight gives us flawlessly designed large-scale puppetry by genius puppet designer Patrick Martel. It also includes surreal visual effects not yet seen on stage and an incredibly designed multimedia set that fully immerses its audience into breath-taking, vivid unknown world of Pandora, the Na'vi language and it's Anuri culture. It was a truly spectacular, virtual visual experience.
What not to expect: The typical Cirque Du Soleil performance ladled with circus -like acrobatic feats and stunts. That was the genius in this performance and is why I recommend you go and experience Toruk: The First Flight. It touches your heart and the journey that the main character's Ralu, Entu, and Tsyal show is a journey of self-discovery and bravery; a journey and a story we can all love and relate too.
Toruk ~The First Flight is currently on its North American tour. If you missed it in Houston at the Toyota Center here's where you can catch it next www.cirquedusoleil.com/toruk/tour-dates
For more information about the show experience and to purchase tickets visit www.cirquedusoleil.com/toruk.