Roping the Mind of a Cowboy with Fred Whitfield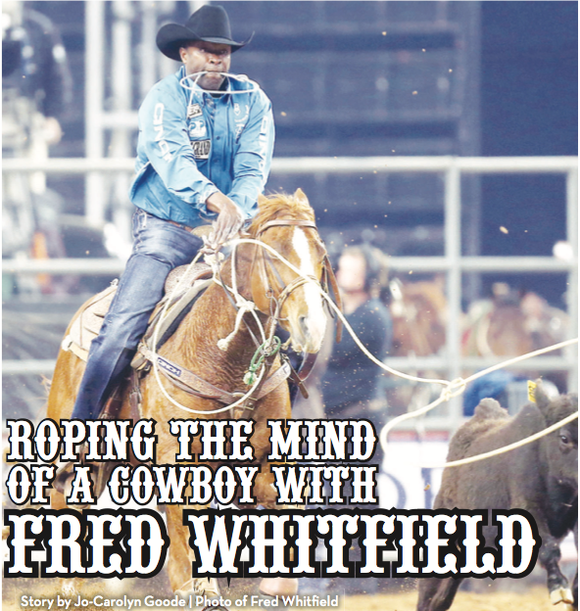 Living in Houston it is not uncommon to see a man or woman riding on a horse. Drive through the city, especially the outskirts, one will happen upon some cattle and ranches too. Houston is just a mixture of country and city. Being such it is not unusual to ask a child what they want to be when they grow up and hear the response of cowboy or cowgirl.
It is highly likely as a child that Fred Whitfield was one such boy who gave that kind of answer. Like most little boys, Whitfield grew up playing football. After a few practices and games, he knew football was not the sport for him. It was at that point he decided to be a cowboy.
When Whitfield made that decision it is during a time when black cowboys were a dime a dozen. The first American black cowboys started out as slaves because it was better to be a black cowboy than to work the fields. Black cowboys were responsible for bringing all the muscle so they would break the horses and heard the cattle. Slowly they would find their way out of slavery to be employed to work as ranch managers, foremen and rodeo performers. A few even owned their own ranch or farm. Soon familiar names became famous like William Pickett, rodeo performer who is credited with the event of bulldogging and Mollie Stevenson, a fourth generation ranch owner of the Taylor-Stevenson Ranch located in Houston. However for Whitfield that name that meant the most to him was that of Myrtis Dightman, Champion Afro-American bull rider that was the first black cowboy to compete at the National Finals Rodeo. This is the same rodeo that Whitfield would be name the World Champion and wins the NFR calf roping average title 24 years after his role model Dightman first competed.
Early on Whitfield knew his specialty was roping. When he was 16 years old he tried bull riding and just didn't like it. "The fear of getting hurt was stronger than my desire to actually do bull riding. I turned that down right away," said Whitfield in an interview with Houston Style Magazine. I found the fact that bull riding frightens him strange since to me cowboys can't be scared with the way they have to interact with all the animals. In my opinion, cowboys are brave and strong. Whitfield thought it was true but to really be a good cowboy one needs to have the right mindset. "I think you have be more mentally tough than physically tough to win the rodeo honestly, " said Whitfield.
Something else a cowboy has to have is passion. Whitfield is now in his 26th year of being a professional cowboy competing in rodeos and competitions. And yes he loves the sport. He loves working the animals, people and everything that is wrapped in it. But has kept his longevity in this industry because of his passion. "The passion still burns as much as it did in 1990. Obviously, my physical ability has diminished some but my approach is still the same." He continued, "I think for me it is pretty simple. I made 11 for the past 26 years roping and riding horses. I give lessons daily out here at my place and it is the way I provide for my family and make a living. So why would I approach that in a simple way if I expect to be compensated in a major way. "