Houston Rodeo Delivers a Diverse Food Selection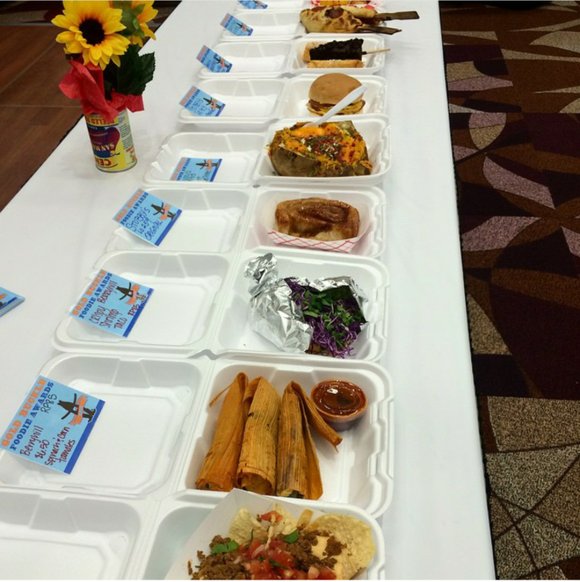 On March 1, 2016 The Houston Livestock and Rodeo kicks off the season as usual with a parade, the Downtown Rodeo Run, carnival, and musical entertainment. There is going to be three full weeks of crowds gathering to enjoy this Houston tradition while indulging in good food and fun.
Depending on the individual's tastes, the rodeo offers almost every indulgence to satisfy the mass of patrons who are in attendance. For example, Brooks Family BBQ, Marble Slab, Stumps Firewood Pizza, and Stubby's Cinnamon Rolls are serving their best dishes in the NRG Arena.
In the NRG Center, Burton Sausage, Saltgrass Steak House, Texas Sized Pizza By The Slice, Holmes Smokehouse, and Texas Skillet 2 are representing the American Cuisine. In this group of vendors Holmes makes some of the best tasting sausage in my opinion. Their sausage is packed full of flavor, the meat is well seasoned, it renders well when cooking and it is my absolute and only choice when preparing gumbo. In fact, "the Pecan Smoked" brand has a balanced flavor profile that adds the perfect amount of seasoning to whatever dish I decide needs a little pep without over powering the palate.
Moreover, for the individual who prefers Mexican food, there are many vendors to choose from such as: Alamo Tamale & Taco, Berryhill Baja Grill, Freebirds World Burrito, Go Tejano Diner, Pappasito's Cantina, Taco Me Crazy, and Tad's Bodacious Burrito. In this group of restaurants, Berryhill Baja Grill is my favorite; their salsas taste good on everything, and their nachos are mouth-watering good.

Furthermore, the rodeo wouldn't be completed without the ale to quench the thirsts of the many alcohol drinkers who are more than likely to spend three or more hours at this festive affair. On the roster there is: Daq Shack, Half Moon Saloon, Joe's Ale House, Margaritaville, and Ranch House Lemonade.
Finally, all great meals are even better with something sweet; some of the offerings consist of:
Aunt Edmoe's Homemade Cookies, Bahama Buck's, Crown Cinnamon Rolls II, Custom Confections, Dippin' Dots, Fried What!, What a Cone, Piches Beignets and Sills Funnel Cakes.

Be sure to kick off rodeo fun at the 2016 World's Championship Bar-B-Que Contest sponsored by Comcast Business on February 25-27, 2016. Net proceeds benefit the Houston Livestock Show and Rodeo™. Invitational and Go Texan teams feature the most creative in barbecue décor, with pits disguised as fire engines, covered wagons, airplanes, waste disposal trucks, the state of Texas and armadillos, just to name a few. More than 250 teams comprising over 400 entries compete for best overall barbecue. An NRG Park Season Pass is $25 and is valid through the run of the contest and the duration of the Houston Livestock Show and Rodeo (March 1 – March 20, 2016). With each ticket purchased, visitors are treated to a complimentary chopped beef sandwich plate. Guests will get the opportunity to enjoy their complimentary meal on the porch-style area at The Chuck Wagon.
Houstonians are so blessed to live in a place with such a diverse population, that if we choose to have a meal that is not our tradition, we don't have to travel far in order to find food something we like.
Thanks for reading, please visit our website: www.stylemagazine.com and share this article and others with your friends and/or fans. Also, follow us on Twitter: @HoustonStyle and on Instagram: stylemagazine. For more information about the rodeo, visit www.rodeohouston.com.