HCC, Texas A&M and Chevron make dreams a reality for engineering students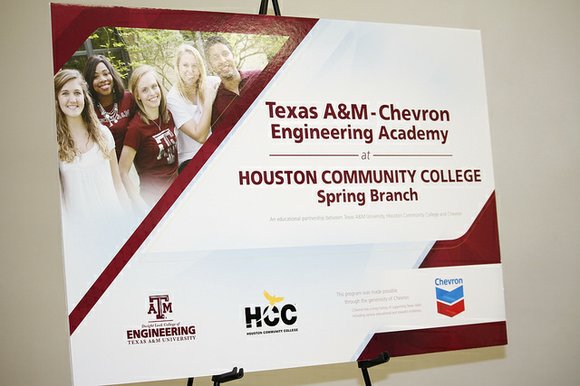 HOUSTON [Feb. 19, 2016] - In a few years, Marly Adams will cross the graduation stage as an Aggie engineer thanks to a unique partnership with Houston Community College (HCC), Texas A&M University and Chevron.
Although Marly wasn't able to attend Texas A&M immediately after graduating in 2013 from Seven Lakes High School in Katy, she was determined to be an Aggie and an engineer by completing an internship with Shell and basic level college courses, one including developmental math at HCC. Once the partnership was established in 2015, Marly quickly joined the first cohort of the HCC Texas A&M Chevron Engineering Academy and plans to pursue a career in Mechanical Engineering.
"There are several benefits of this academy. It saves several costs for college and provides a direct route to A&M," said Adams.
Texas has a significant need for engineers and HCC allows students an affordable pathway to a bachelor's degree. The Texas A&M-Chevron Engineering Academy at HCC is an innovative program that offers students interested in pursuing an engineering degree at Texas A&M University the opportunity to co-enroll at HCC and the Dwight Look College of Engineering at Texas A&M. That means students can complete the first two years of their course work at the HCC Spring Branch campus and if eligible, transfer to the TAMU campus in College Station.
"Being a part of this academy not only saves students money, but they get one-on-one attention in a small classroom setting that isn't usually available for introduction classes," said John Vasselli, director of the HCC Engineering Center of Excellence. "Students are also exposed to college life through field trips to the A&M campus in College Station and taking part in the university's career fair and have access to mentors."
The academy is hosting an information session March 8 from 6-8 p.m. in the Eagle Room at the Spring Branch campus (1010 W. Sam Houston Pkwy N). RSVPs will accepted until March 7. Applications are currently being accepted for the fall 2016 Academy Class until March 28. Visit hccs.edu/futureaggieengineer to learn more about the program.