H-E-B Primo Picks Quest for Texas Best Competition Returns February 24 - March 31, 2016
Grocer pursues the best Texas food and beverage creators from across the state to line its shelves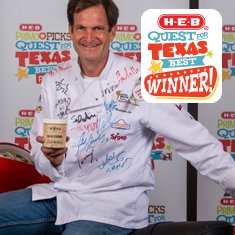 [HOUSTON] – H-E-B is searching for the most creative Texas-based food and beverage manufacturers to participate in the 2016 H-E-B Primo Picks Quest for Texas Best competition where winner's products will stock the shelves of H-E-B and win cash prizes. Interested creators may submit their unique product details online at HEB.com/quest beginning Wednesday, February 24 through Thursday, March 31, 2016. Participants will compete for the opportunity to showcase their uniquely Texan products on select H-E-B shelves sharing them with shoppers across the state.
H-E-B's Business Development Managers will determine the top 25 applicants, who will present their products before a panel of judges selected by H-E-B August 10 and 11, 2016. The panel will determine the top four winning products. H-E-B will award the Grand Prize winner $25,000 and the title of "Texas Best" Primo Pick; the first place winner $20,000; the second place winner $15,000; and the third place winner $10,000. Eligible products must not be available in any other large chain or retailer and the vendors must be willing to sell exclusively to H-E-B. Additionally, Texas-based suppliers must also create, produce or co-pack the products in Texas.

Since its inception in 2014, the Quest for Texas Best competition has yielded more than 90 new products on H-E-B store shelves across Texas. To celebrate all things Texas and highlight Texas farmers, growers and manufacturers, H-E-B will kick off its two week TexFest, February 24 – March 8, with in-store visits by past Quest participants including 2015 First Place Winner Chad Wilson of Slaton Bakery's Homemade Vanilla Wafers slated for Houston stores March 5.
H-E-B leaders will visit local chambers of commerce, small business development organizations and business advocacy groups to raise awareness of the product search and contest, and advise potential entrants about product development and best practices for entering their product in the competition February 24 - March 31. Cities include: Beaumont, Copperas Cove, Corpus Christi, Dallas, Del Rio, Houston, Laredo, McAllen, Round Rock and San Antonio. To register, please visit HEB.com/quest.
Last year, Austin's Matthew Lee of TEO Gelato took home the Grand Prize title and $25,000, for his master-crafted gelato using local market-fresh ingredients to create signature flavors such as Texas Pecan and Whiskey, Peanut Butter and Nutella, Poteet Strawberry and Texas Hill Country Peach. Houston's-own Angela Rowley of Blackbird Foods took home second place and $15,000. Jacqui Francis of Jacqui's Jamaican Rum Cake, Scott French of Mister French's Gourmet Bakery, Inc., Jill Butler of Monster PBJ, Purnima Nabar of Natura Treats Inc. and Sarah Zapien of Tavola Pasta's Gourmet Dry Pasta also placed in the Top 25 and were given the opportunity to be mentored and coached through the process of designing packaging and branding, as well as prepare for mass production and placement on H-E-B's shelves.
ABOUT H-E-B
H-E-B, with sales of more than $23 billion, operates more than 370 stores in Texas and Mexico. Known for its innovation and community service, H-E-B celebrated its 110th anniversary in 2015. Recognized for its fresh food, quality products, convenient services, and a commitment to environmental responsibility and sustainability, H-E-B strives to provide the best customer experience at everyday low prices. Based in San Antonio, H-E-B employs more than 86,000 Partners in Texas and 9,000 Partners in Mexico and serves millions of customers in more than 300 communities. For more information, visit heb.com.