More Than 3,000 Trail Riders Ride into Memorial Park for Awards Ceremony on Friday, Feb. 26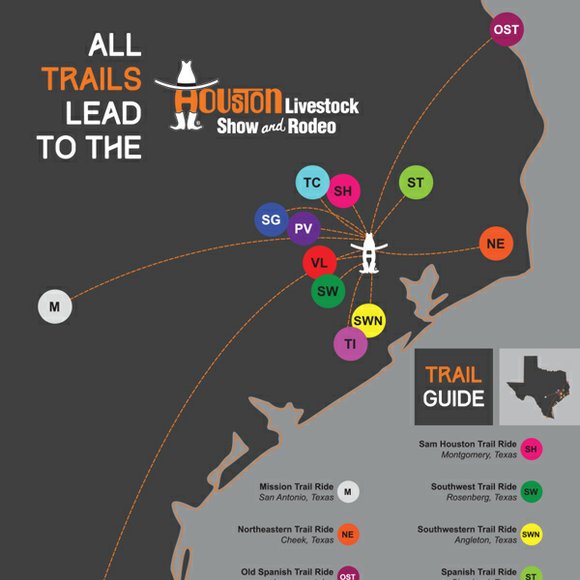 More than 3,000 riders will saddle up and ride into Memorial Park on the last leg of their journey for an awards ceremony before participating in the Houston Livestock Show and Rodeo™ Downtown Rodeo Parade on Saturday, Feb. 27, 2016.
All of the rides gather for the Awards Ceremony, with awards presented by Houston Livestock Show and Rodeo officials. In attendance are the Show vice presidents, representing the 28,500 Houston Livestock Show and Rodeo volunteers. The Awards Ceremony celebrates the completion of each of the 13 trail rides with a special award; as each trail boss comes forward to receive recognition for the ride they have led.
The awards for Best Trail Ride recognize the best ride in three divisions, based on size. A team from the Trail Ride Committee and the Jr. Rodeo Committee judge their appearance as they arrive, and that is combined with other judging that takes place on the trail.
WHEN: 5 p.m. on Feb. 26, 2016 – Awards Ceremony
WHERE: Memorial Park
S. Picnic Lane and Memorial Drive, Houston, TX 77007
*Parking: Only media with credentials will be allowed to enter the S. Picnic Lane and Memorial drive entrance. Parking is limited and on first come first serve basis. Plan to arrive early.
WHY: In January of 1952, several men formed the very first trail ride as a way to increase awareness of the Houston Livestock Show and Rodeo. Though only four men made the first journey from Brenham, Texas, the attention they raised attracted more publicity than ever expected, as more than 80 men signed up the next year. The trail rides are a signature tradition of the Show today, and signify the start of the rodeo season in Houston.
For more information, visit http://www.rodeohouston.com/Events/TrailRides.aspx.