Toyota Texas Bass Classic now part of Toyota Texas Fest presented by JBL
Toyota Texas Bass Classic, benefiting the Texas Parks and Wildlife Department, expands to include a three-day festival of events at Toyota Stadium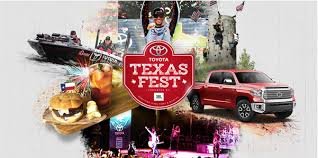 FRISCO, TX – The Toyota Texas Bass Classic (TTBC) is proud to announce that it is now part of Toyota Texas Fest presented by JBL, a three-day festival of events to be held May 20-22 at Toyota Stadium. In addition to celebrating the 10 year anniversary of TTBC, Toyota Texas Fest will enable the event to further its mission to help broaden the audience reach and ultimately increase the awareness and funding for the Texas Parks and Wildlife Department (TPWD). Toyota Texas Fest presented by JBL will include concerts, an outdoor festival, and fun activities for all ages.
"We are very excited to introduce the Toyota Texas Fest presented by JBL. For 10 years, TTBC has been proud to support the Texas Parks and Wildlife Department. We look forward to continuing this tradition through Toyota Texas Fest." said Katie Scallan, executive director of the Texas Bass Classic Foundation.
"We are excited to extend our 20-year JBL-Toyota partnership to include the Toyota Texas Fest," said Bill Wyman, vice president, Global Car Audio Marketing for HARMAN. "We are thrilled to connect with this avid group of outdoor lifestyle enthusiasts, to help support the community outreach initiatives of the TPWD, and to amp up the Toyota Texas Fest with the dynamic, legendary sound that is JBL."
Fans can expect a fun and exciting event that will offer live concerts from top country music artists, an outdoor consumer expo, the TPWD Outdoor Adventure Area, a Kids Zone and the 10th anniversary celebration of the Toyota Texas Bass Classic—the championship of professional bass fishing. Toyota Texas Fest presented by JBL activities will be held at Toyota Stadium in Frisco, while the championship fishing will take place on Lake Ray Roberts near Denton.
"For nearly a decade the Toyota Texas Bass Classic has provided top notch entertainment for the entire family. With the relocation to Frisco and the introduction to the Toyota Texas Fest presented by JBL, we are poised to see unprecedented growth in 2016," said Lenny Francoeur, TTBC's tournament director.
Since TTBC's inception over nine years ago, the partnership between TTBC and TPWD has helped raise awareness for both TPWD's conservation efforts and helped raise funding for youth and urban outreach programs. To date, TTBC has donated $2.25 million to the TPWD and will continue its support in 2016.
Concert talent and ticket sales will be announced in the coming weeks. For additional information, visit ToyotaTexasFest.com or call 1-866-907-0143. Make sure to "Like" us on Facebook and follow us on Twitter for tournament news, updates, and more!
About the Event: The Toyota Texas Fest is a three-day outdoor festival that will take place May 20-22, 2016 at Toyota Stadium (Frisco, Texas). The mission of the event is to raise awareness and funding for the Texas Parks & Wildlife Department. One of the festivals' main events is the Toyota Texas Bass Classic (TTBC), which is celebrating its 10th anniversary in 2016. TTBC is a world-class bass fishing tournament featuring the top 36 bass anglers competing on Lake Ray Roberts (Denton, Texas). Additionally, the festival will include exceptional entertainment and a wide variety of outdoor programming for the entire family. Activities include games and interactive displays at the Texas Parks and Wildlife Outdoor Adventures Area and an outdoor consumer expo featuring the latest products and services from event partners. Throughout each day country music's biggest stars will entertain thousands of fans.

Charity: Proceeds benefit the Texas Parks and Wildlife Department. For more information click here to visit the Texas Parks and Wildlife Department's website: www.tpwd.state.tx.us
About JBL by HARMAN: Born out of the desire to celebrate the brilliance and craft of artists, JBL has long been dedicated to the pursuit of one truth - capturing the energy and emotion of the live performance. JBL is a flagship brand of HARMAN, which designs and engineers connected products and solutions for automakers, consumers and enterprises worldwide, including connected car systems, audio and visual products, enterprise automation solutions and connected services. HARMAN is admired by audiophiles, musicians and the entertainment venues where they perform around the world. More than 25 million automobiles on the road today are equipped with HARMAN audio and connected car systems. The Company's shares are traded on the New York Stock Exchange under the symbol NYSE:HAR.
Current sponsors: Toyota, JBL by Harman, Bass Pro Shops, NITRO Boats, GEICO, Embassy Suites Dallas Frisco Hotel Convention Center & Spa, Frisco Convention & Visitors Bureau.
For more information, visit www.toyotatexasfest.com