The Ensemble Theatre Invites Audiences In With Their Compelling Play Fences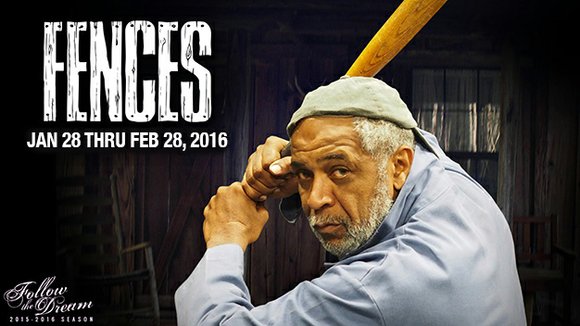 The Ensemble Theatre Fences, directed by Eileen J. Morris, is a play written by award winning playwright August Wilson. It is also considered his most critically acclaimed work and rightly earned him the Pulitzer Prize and Tony award. August Wilson is also best known for his unprecedented cycle of 10 plays that chronicle the 20th century African-American experience. Each play is set in a different decade and collectively became known as the Century Cycle. "Put them all together," Wilson once said, "and you have a history."
Fences tells the story of the life and relationships of the Maxson family as they struggle to make life work in the 1950's. At first look, theatre goers may mistake Wilson's Fences play as a climatic, father and son story, but once you delve deeper you will learn it is a story dealing with so much more. Fences plays out instead as a dynamic family narrative that deals with a multitude of issues including race, men and masculinity, dreams, dissatisfaction, duty, and betrayal; it is a family story that touches all of us.
Director Eileen J. Morris does an astounding job bringing this beautifully, complex story to life. She also holds the distinct privilege of being the only female director in the country that has directed eight of August Wilson's Ten Play Cycle.
Eileen encourages the audience to see her August Wilson's story through the eyes of the main character Rose and it is through her pain, love, & strength that this story truly comes to life.
For Rose (Detria Marie Ward), the symbol of the fence has a protective meaning. She craves safety and security and becomes the fence that holds her family together. As the play continues, however, her husband Troy (Alex Morris) is the one that builds fences between himself and the ones that he loves. It is within this these complex family dynamics that you see his conflicting relationship with his son Cory (Gabrielle Monroe) and the betrayal to his wife, along with his abandonment of his mentally ill brother, Gabe (Jason Carmichael).
I usually like to highlight the standout performances in the plays I attend, but with this talented cast I was more that impressed with their portrayals of each character. Every single actor on stage gave a standout out performance. Alex Morris (Troy Maxson) is an award winning producer, director and actor and has appeared on stage for more than 30 years, his exceptional honest performance of Troy evoked the perfect balance of an angry and hardened father and a loving, and strong, but flawed husband. Gabriel Monroe (Cory Maxson) was just as poignant and incredible as a young boy transitioning into a powerful man. He is currently a student at the University of Houston-Downtown where he is quickly gaining acclaim and was previously given the best actor award in the Little Shop of Horrors. He is currently pursuing a Bachelor of Fine Arts degree with a focus in theatre. Detria Marie Ward (Rose Maxson) is a graduate of Texas Southern University and received the best actress award from the Houston Press. Her strong but gracious heart-rending performance of Rose Mason was nothing short of brilliant. Jason Carmichael (Gabriel) a graduate of Howard University and an award winning actor that has extensive experience both on stage and as well in film and television (NYPD Blue and Once and Again). His portrayal of the mentally ill, vulnerable Gabe was gut wrenching and endearing and one that you will never forget.
I urge you to go and see this one. Catch Fences now as it is currently playing at the Ensemble Theatre and is running through February 28th.
Fences is also just one of the productions at the Ensemble that is part of their Follow the Dream 2015-2016 Season. For more information and to purchase season tickets, visit www.ensemblehouston.com/season/seasonlineup.html