Jack Daniel's Tennessee Honey and Gentleman Jack Bring Art, Beats and Lyrics Back to Houston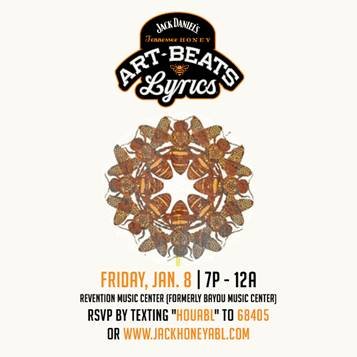 WHAT: Art, Beats and Lyrics, the traveling art and music tour presented by Jack Daniel's Tennessee Honey and Gentleman Jack, is returning to Houston. What began as a small art show in Atlanta, has grown to be one of the world's largest tours of its kind. In its 11th year, the multi-city tour showcases some of today's best upcoming artists, along with seasoned veterans in art and music under one roof.
Visual masterpieces will be on display from featured artists Dubelyoo and Zack Murray, among many other notable names recognized globally. The event will also include appearances from a national hip-hop artist to be announced ahead of the event. Previous featured acts have included Kendrick Lamar, 8Ball and MJG, Pastor Troy and Master P. Additional details are available at www.JackHoneyABL.com.
WHO: Jack Daniel's Tennessee Honey and Gentleman Jack, Art, Beats & Lyrics
WHEN: Friday, January 8, 2016
7 pm (VIP preview hour 5:30 pm)
WHERE: Revention Music Center
520 Texas Ave, Houston TX, 77002

Be Fly. Drink Responsibly. Visit us at wwwJackHoneyABL.com
JACK DANIEL'S TENNESSEE HONEY is a trademark of JACK DANIEL PROPERTIES INC. ©2015. Jack Daniel's. Whiskey Specialty, 35% ALC./VOL.(70 proof). Produced and Bottled by JACK DANIEL DISTILLERY, Lynchburg, TENNESSEE, U.S.A.